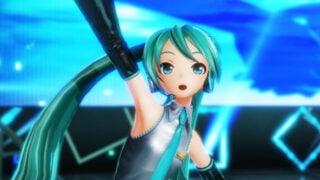 Sega has released a new trailer for Hatsune Miku: Project DIVA X showcasing the "Sharing the World" and "Hand in Hand" song downloadable content due out alongside the release of the PlayStation 4 version in Japan.
In Japan, the two songs will be free to download for PlayStation 4 users and cost 500 yen for PS Vita users. Release plans have yet to be announced for the Americas.
Hatsune Miku: Project DIVA X is due out for PlayStation 4 and PS Vita in the Americas on August 30. The PS Vita version is already available in Japan, and the PlayStation 4 version will launch in the country on August 25.
Watch the trailer below.