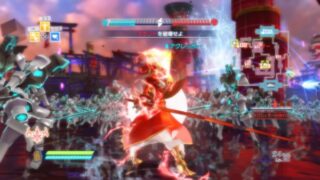 Marvelous has shared new Fate/EXTELLA: The Umbral Star system details, screenshots, and a teaser for the next playable Servant character.
Get the information below.
■ Guess the Next Servant

Marvelous has launched a poll at its Fate/EXTELLA Servant Festa campaign website asking users to predict which servant from Fate/Zero will be the next to be revealed. He or she will belong to Attila's Party.

The following choices are provided:

You can make your prediction by filling in the your Servant of choice's corresponding number in the form at the website and hitting enter. Polling will end on July 18 at 10:00 JST and the results will be announced on July 20.

The first Fate/EXTELLA: The Umbral Star Japanese TV spot will broadcast during the late night anime block on Tokyo MX from July 16 to July 19. It will show which party is most favored among the fans according to the results of a previous poll—Nero's, Tamamo no Mae's, or Attila's?

The second Fate/EXTELLA: The Umbral Star Japanese TV spot will broadcast during the late night anime block on Tokyo MX from July 20 to July 27.

■ Strengthening Techniques

Moon Crunch

"Moon Crunch" is an ability that uses the magical power of the Moon Cell to form change into new armor. By building up and triggering the Drive Gauge, not only can you greatly increase your attack power, you can also perform a Guard Break attack to penetrate your opponent's defense.

Moon Drive

"Moon Drive" is a strengthening technique in Servants who do not possess the Regalia that uses the magical power of the Moon Cell to boost your status.

■ Noble Phantasms

"Noble Phantasms" let you unleash powerful trump cards activated by releasing the user's true name. To release a true name, an external Magical Circuit known as the "Phantasm Circuit" is required. By collecting three Phantasm Circuits scattered throughout the stage, Servants can activate their unique Noble Phantasm.

Enemy Servants can also trigger their Noble Phantasms, but by attacking them while releasing their true names, you can stop its activation. Since the Servant will drop Phantasm Circuits when activation of their Noble Phantasm is interrupted, you should recover them and capitalize on the next attack.

■ Command Spells

"Command Spells" are a Master's proof of absolute authority over a Servant. Through Command Spells, you can "Revive" and "Limit Break." These two skills should be used strategically to achieve victory. Normally, you can only use Command Spells three times, but with the power of the Regalia, you can replenish your uses during battle.

Revive

If a Servant has used up all of his or her strength, you can consume one Command Spell to revive them.

Limit Break

By using all of your Command Spells, you can unleash power beyond the limits of a Servant and for a fixed period of time fight in a strengthened state.

■ Code Cast

A Master cannot directly participate in battle, but through "Code Cast," he or she can support the Servant with simple techniques. Code Casts have various effects, such as strengthening, recovery, and defensive boosts. It's also possible to fight alternating the commander and lieutenant Servants.

Since Code Cast is embedded into a Mystic Code (formal wear), the Code Cast you can use will change as you change attire.

■ Mystic Code

The simple techniques available via Code Cast can be changed by changing Mystic Codes (formal wear). You can create Mystic Codes through item crafting. Crafting items consumes "QP" and "Strengthening Bones," which are acquired during battle.

There are Mystic Codes of various traits, including support-style and recovery-style Mystic Codes. Also, even with the same Mystic Code, abilities change depending on the simple techniques embedded at random.

■ Leveling Up

Servants will level up and grow as you battle. By leveling up, a Servant's stats will increase and they'll acquire new skills.

Outside of repeating battles, by consuming the QP (Quantum Pieces) obtained during sub story battles, you can raise your Servants to the same value as your highest level Servant.
Fate/EXTELLA: The Umbral Star is due out for PlayStation 4 and PS Vita on November 10 in Japan and this winter in North America.
View the screenshots at the gallery.