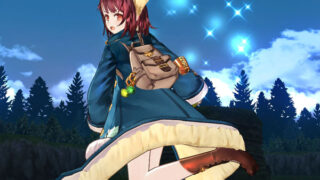 The latest issue of Dengeki PlayStation reveals three characters from Atelier Sophie: The Alchemist of the Mysterious Book and one new character set to appear in the upcoming Atelier Firis: The Alchemist of the Mysterious Journey.
The magazine reveals:
Sophie Neuenmuller (voiced by Yuka Aisaka) – 20 years-old. Firis meets Sophie during her journey. Sophie teaches her alchemy, and Firis lovingly calls her Sophie-Sensei.
Plachta (voiced by Yuka Iguchi) – A girl who travels with Sophie. She kindly guides Firis, who is the disciple of her own disciple Sophie.
Oskar Behlmer (voiced by Seiichiro Yamashita) – A young man from the same village as Sophie who travels with her. He used to be chubby, but he's since become considerably slim.
Drossel Weissberg (voiced by Ari Ozawa) – A woman and playwright filled with curiosity, who doesn't mind the minor details. Since she received instruction from her father, she has high combat capabilities. She does have a poor sense of direction, however.
Atelier Firis: The Alchemist of the Mysterious Journey is due out for PlayStation 4 and PS Vita on September 29 in Japan.
If you missed it, catch the debut trailer here.
Thanks, Hachima Kikou.
(Pictured: Atelier Sophie: The Alchemist of the Mysterious Book.)