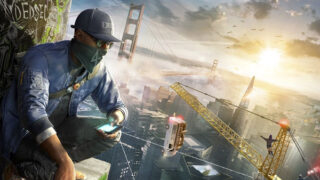 Ubisoft has officially announced Watch Dogs 2. The San Francisco-set, open world sequel will launch for PlayStation 4, Xbox One, and PC on November 15.
In addition to the standard release, Watch Dogs 2 will also be available in the following editions:
Deluxe Edition includes the Game and the Deluxe pack of digital customization items.
Gold Edition includes the Game, the Deluxe pack of digital customization items and the Season Pass.
Players can pre-order the Collector's Edition – with either the Standard, Deluxe or Gold Edition of Watch Dogs 2 – on the Uplay shop and receive the exclusive Wrench Junior robot, a motorized and endearing companion, controlled by an app available on smartphones or tablets.
Find out more about each edition at the Ubisoft online store.
Players who pre-order any edition get an extra mission called "Zodiac Killer," in which an "unwanted ghost of San Francisco's past" has resurfaced after fifty years. An exclusive outfit will unlock while completing the mission.
Get the debut trailers and fact sheet below. View the first screenshots at the gallery.
Announcement Trailer
Marcus Character Introduction Trailer
World Premiere Live Stream
Gameplay
https://www.youtube.com/watch?v=W4oWfbqzGd0
Overview

Players will explore the birthplace of the tech revolution as Marcus Holloway, a brilliant young hacker who has fallen victim to ctOS 2.0's predictive algorithms and is accused of a crime he did not commit. In Marcus' quest to shut down ctOS 2.0 for good, hacking is the ultimate weapon, and players can not only hack into the city's infrastructure but also every person and any connected device they possess, to trigger unpredictable chains of events. With the ability to take control of drones, cars, cranes, security robots and much more at their disposal, players can choose whether to use stealth hacking to complete missions without killing a single enemy or go guns blazing for a more ferocious approach. In this vast open world, players can hack their way through traffic while engaging in dangerous car chases through the winding streets of San Francisco, traverse the rooftops of the vibrant neighborhoods of Oakland and infiltrate the offices of cutting-edge companies in Silicon Valley.

Features

Explore a Massive and Dynamic Open World – Experience an incredible variety of gameplay possibilities.
Hack Everything – Every person, vehicle, and connected device can be hacked. Take control of drones, cars, cranes, and more to use them as your weapon.
Connect with Friends – Play co-op and player-versus-player activities in a seamless shared world.
You Are in CTRL – Develop your skills and combine hacking, weapons, and stealth to complete missions in ways that suit your playstyle.
Welcome to the San Francisco Bay – Experience the winding streets of San Francisco, teh vibrant neighborhoods of Oakland, and the cutting edge of Silicon Valley.