Tokyo Xanadu eX+ first details, screenshots
PS Vita action RPG comes to PS4 in Japan on September 8.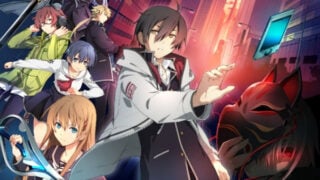 Falcom has released the first information and screenshots of Tokyo Xanadu eX+, its newly announced PlayStation 4 port of the September 2015-launched PS Vita action RPG Tokyo Xanadu.
Get the details below.
Early Reservation Bonuses

Early reservation copies of the game include a product code to download the 39 pieces of paid downloadable content released for the PS Vita version of Tokyo Xanadu completely free, including S-Wear costumes for every character, all sorts of attachments and NiAR wallpapers to customize the menu screen.

Here's the list of content:

All Types of S-Wear Costumes (Kou, Asuka, Sora, Yuuki, Shio, Mitsuki, Rion)
All Kinds of NiAR Wallpapers (Kou, Asuka, Sora, Yuuki, Shio, Mitsuki, Rion, Shiori, Ryouta, Jun, Towa, Gorou, SPiKA)
Bagubagu Morimaru
Bagubagu Crow
Bagubaku Fie
Unique Glasses Set
Angel Set
Devil Set
Witch Set
etc. totaling at 39 items

After 150,000 Sales on PS Vita, Tokyo Xanadu Comes to PS4

First released in September 2015 for PS Vita, Falcom action RPG Tokyo Xanadu has since sold 150,000 units. The PlayStation 4 version of Tokyo Xanadu offers a number of new elements, including new stories and modes.

Full HD at 60 Frames Per Second

In addition to full high-definition graphics, the PlayStation 4 version of Tokyo Xanadu runs at 60 frames per second. The battles that unfold in the Other World dungeons are even smoother and more dynamic, and the grand event scenes depicted with Kou and company at its center are even more elaborate and vivid.

New Scenarios! Side Stories and After Story Added

With the exception of protagonist Kou, Side Stories from the point of view of the other "Qualified" high school students have been added. Enjoy the tales of the Qualified students that weren't depicted in the main story as all new stories.

Additionally, a new, large-volume "After Story," available after the main story is cleared, has also been added. It is set in October 2015, when Morimiya City is flourishing with Halloween-related events. But then a mysterious "Black Fox Mask Boy" appears before Kou and company…

New Playable Character: "White Shroud"

Play as White Shroud, a knight with an unidentified seal who belongs the "Holy Spirit Church," a third power that has a different standpoint from the "Nemesis," which Asuka belongs to, and "Zodiac," which Mitsuki belongs to.

In addition to his heightened parameters, he triumphs in all skill types, including shooting, flight, and strength skills.

In the PS Vita version, the attack attributes of "Fire," "Spirit," "Wind," "Steel," and "Shadow" appeared. White Shroud belongs to his own exclusive attribute of "Light," which is strong against every other attribute except Shadow.

New Modes: "Time Attack" and "Boss Rush"

In the new "Time Attack" mode, the goal is defeat the various bosses (Elder Greeds) that appear in the main story as quickly as possible. In the new "Boss Rush" mode, you can battle each boss one after the other.

Tons of New Greeds and Dungeons, New Difficulty Mode

Joining the new Side Stories and After Story are new dungeons in the Other World, and new types of Greeds (monsters) and Elder Greeds (large bosses) to battle.

With the addition of a new "Calamity" difficulty mode, there are also now a total of five difficulty modes available to players: "Beginner," "Normal," "Advanced," "Elite," and "Calamity."
Tokyo Xanadu eX+ is due out for PlayStation 4 in Japan on September 8. Visit the game's official website here.
View the screenshots at the gallery.