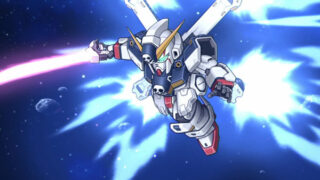 Bandai Namco has released the first screenshots of Super Robot Wars V, its newly announced simulation RPG sequel due out for PlayStation 4 and PS Vita in Japan and Asia (in English) in 2017.
The 116 screenshots introduce the game's participating works:
Invincible Super Man Zambot 3
Invincible Steel Man Daitarn 3
Mobile Suit Gundam Z
Mobile Suit Gundam ZZ
Mobile Suit Gundam: Char's Counterattack
Mobile Suit Gundam: Hathaway's Flash
Mobile Suit Crossbone Gundam
Mobile Suit Crossbone Gundam: Skull Heart
Mobile Suit Crossbone Gundam: Steel Seven
Mobile Suit Gundam SEED Destiny
Mobile Suit Gundam 00: A Wakening of the Trailblazer
Mobile Suit Gundam UC
The Brave Express Might Gaine
Martian Successor Nadesico: The Motion Picture – Prince of Darkness
Getter Robo Armageddon
Mazinger Edition Z: The Impact!
Shin Mazinger ZERO vs. Great General of Darkness
Fullmetal Panic!
Fullmetal Panic? Fumoffu
Fullmetal Panic! The Second Raid
Fullmetal Panic! (Original Novel Version)
Evangelion: 1.0 You Are (Not) Alone
Evangelion: 2.0 You Can (Not) Advance
Evangelion: 3.0 You Can (Not) Redo
Space Battleship Yamato 2199
Cross Ange: Rondo of Angel and Dragon
View the screenshots at the gallery. If you missed it, watch the debut trailer here.