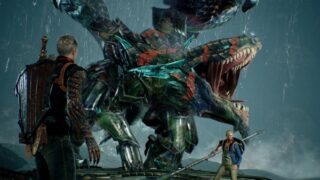 Scalebound will come to PC in addition to Xbox One when it launches in 2017, Microsoft announced during its E3 2016 press conference.
The action RPG will be a "Play Anywhere" title, meaning if you buy it once, you'll be able to play it across both platforms.
Get the multiplayer trailer, E3 2016 stage demo, and fact sheet below. View a new set of screenshots at the gallery.
https://www.youtube.com/watch?v=D-ZVMU_KA-M
E3 2016 Stage Demo
https://www.youtube.com/watch?v=gdGEos2ZMg0
Overview

In Scalebound, the next great adventure from critically-acclaimed developer PlatinumGames and renowned Game Director Hideki Kamiya, you will experience the journey of a young loner, Drew, who is pulled into the strange, beautiful and dangerous world of Draconis. There Drew is bonded to a fearsome and noble dragon, Thuban, the last of his kind. These two lone-wolf heroes thrown together by fate must learn to fight as one to defeat the powerful enemies that threaten Draconis, Earth and a vast universe of parallel worlds.

Features

Epic Battles on an Unbelievable Scale: Master accessible but deep "stylish action" gameplay using a variety of weapons, battle strategies and skills. Fluidly chain attacks with your dragon to unleash devastating combos against colossal enemies in amazing boss battles.
Play Your Way: Cutting-edge Co-op Multiplayer: Adventure on your own or join friends to explore the world of Draconis, complete custom quests and battle massive creatures together, alongside your dragons.* Dynamically-generated quests create new objectives based on play style and user activity.
Explore a Beautiful, Evolving World: Forge your own adventure as you traverse across the vast world of Draconis, brought to life through a distinct, vibrant art style and stunning visuals at 1080p resolution on Xbox One and up to 4K on Windows 10. Defeat enemies to help the world flourish and gain access to unique items.
Customize your Hero and Dragon: Choose the armor and weapons that best match your play style. Select your favorite dragon (winged serpent, four legged tank – and more) and then evolve your companion's unique abilities and attacks as well as its appearance. In co-op, you can customize your dragon and play style to create unique combat strategies with other players.
Shared Progression across Xbox One and Windows 10: "Scalebound" supports cross-save between Xbox One and Windows 10, so you can seamlessly switch between devices and pick up where you left off.