Mary Skelter details Liberation District, Dawn Liberation Front
Dawn protects those who've escaped Jail's monsters.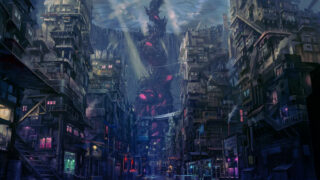 Compile Heart has updated the official website for Divine Prison Tower: Mary Skelter, its upcoming PS Vita dungeon RPG, with details on the Liberation District, an area where those who've escaped the monsters of prison have fled, and the Dawn Liberation Front that runs it.
Get the information below.
■ World

Liberation District

Within the living prison called "Jail," there is an area where those who ran from the custody of the Marchen and Nightmares live. The people living here have been forced to sustain self-sufficiently with the only goods they could scrape together.

Dawn

The Dawn Liberation Front. Also known as simply "Dawn." A human organization established to combat the Marchen and Nightmares. They make up the Liberation District's self-government, patrol, research, and medical treatment, and those living there could not do so without them. It has dozens of core members, but among them is a representative named "Dr. Toshima." Alice and Little Red Riding Hood of the Chishiki Girls Squad also belong to this organization.

■ Characters

Dr. Toshima

A researcher of Jail since the foundation of Dawn. They call him the "Doctor." He knows more than anyone else when it comes to Jail, and though calm, he wants to escape more than anyone else.

Hal

Dawn's "Weapons Mechanic" and a man with a bad, blunt attitude. He is one of the few able to make the "Chishiki Weapons" used by the Chishiki Girls Squad. He constantly has a bad mouth, but worries about Jack and company, and sometimes gives them advice.

Miko Ueshima

Dawn's "Big Sister of the Rescue Squad." A calm and cool-headed girl with a kind heart. She exhibits a wide range of talents, including listening to everyone's troubles and offering advice as well as investigating Jail with the Doctor.

Korara

A girl who works as an assistant for the Weapons Mechanic Hal. She usually runs the shop, which sells tools and such.

Eien Kadowaki

A gatekeeper guarding the entrance to the Liberation District where the people have fled. While he's always smiling, there is an intimidating air about him.

Snark

The boss of Nightmares said to be the mastermind. The Doctor met her once in the past, but she apparently hasn't been seen since then. Everything about her is shrouded in mystery.
If you missed them, previous updates detailed the Chishiki Girls, Blood Skelter mode, the protagonist's actions, the three major desires, the basics of battle, Nightmare Battles, characters Princess Kaguya and Rapunzel, Thumbelina, Snow White, and Sleeping Beauty, as well as the setting, and characters Jack, Alice, and Little Red Riding Hood.
Divine Prison Tower: Mary Skelter is due out in Japan on October 13.