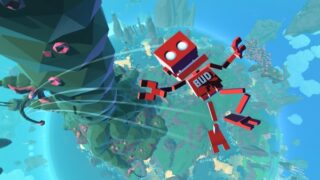 Ubisoft announced Grow Up, a followup to Grow Home, for PlayStation 4, Xbox One, and PC during its E3 2016 press conference. It is due out digitally in August for $9.99 / €9.99 / £7.99.
Here's an overview, via Ubisoft:
In Grow Up, players must guide little robot BUD around an entire alien world as he embarks on a dizzying mission that will see him leaping, rolling, bouncing and flying his way through a stunning and virtually boundless new open world.

This new adventure comes from a small team at Reflections, a Ubisoft studio, who experimented with procedural animation and ended up creating a cute creature named BUD. While out exploring the galaxy, BUD's parental spaceship MOM falls to pieces as an unfortunate lunar accident sends her all over the place. Now her ship parts are scattered far and wide across an alien planet so rich in flora and fauna, it would make even the most jaded galactic gardener's head spin. It's up to BUD to collect all the parts and get them back to the moon, so he can rebuild MOM and reunite with her once again.
Get the announcement trailer and Q&A below. View the first screenshots at the gallery.
Q. What is Grow Up?

BUD, the adorable yet clumsy, stumbling, tumbling robot is back in new acrobatic adventure game Grow Up, following the success of 2015's Grow Home. Players will discover a whole alien planet rich in flora and fauna, and they can explore the new boundless open world, from sea shore to lunar crater, at their own pace. They can jump, throw, shoot, bounce and catapult BUD all the way to the moon. With all new abilities, players will experience a dynamic adventure in a world full of challenges and beauty.

Q. Is Reflections, a Ubisoft studio, still behind the development of the game?

Yes, Reflections, a Ubisoft studio, is leading the development of Grow Up. It was created by a small team of around 10 people, giving it a very personal and quirky vibe, which we love.

Q. Is Grow Up the sequel to Grow Home?

Grow Up is a brand new adventure for BUD and takes place sometime after his escapade in Grow Home. It's a continuation of his mission to find and grow the giant Star Plants but things don't quite go to plan, and BUD is thrown into his first adventure without the watchful eye of MOM.

Q. What's the main difference between Grow Home and Grow Up?

With Grow Home, BUD embarked on a mission to grow the giant Star Plant up to his ship in orbit and harvest its seeds upon flowering. It was a unique open-world adventure with a very linear direction. Grow Up introduces a brand new world and adventure, along with a more acrobatic playstyle. BUD has an entire alien planet to explore and shape in a freeform mission to the moon. He has a range of new abilities to aid his aerial island-hopping. The world we've created literally has no boundaries.

Q. What's new in Grow Up?

Grow Up offers an entire alien planet to sink your acrobatic aerial teeth into. Players will get lost in the lush landscapes and will be able to craft their own adventures across the roaming lands. BUD's new abilities allow players to put their own stamp on the world, not only by growing the giant Star Plants but also by cloning any of the 24 weird and wonderful plant types to catapult them on their way. The view from orbit is breathtaking, with the planet beneath visibly evolves following the player's path. It's a world that's enticing to explore and scattered with surprise discoveries and challenges.

Q. Is BUD still the hero of this adventure? What is his backstory in Grow Up?

In Grow Up, players control BUD, our adorable yet clumsy, stumbling, tumbling robot. We join him as he embarks on a fantastical acrobatic adventure to the moon. BUD's spaceship crashes into the moon, scattering parts all over a nearby planet. Without the watchful eye of his ship's mind, MOM, BUD steps out into this new adventure with a helpful but talkative companion, POD. Together they need to find the ship's parts and climb, jump, fly and grow their way to the moon in a bid to rescue MOM. There are no monsters or gun-wielding enemies to battle; this is a game that allows players to climb and explore the beautiful landscape at their own pace.

Q. The creative direction of the game is very unique. What were your inspirations?

The Grow Home universe has a science fiction theme and was inspired by a lot of British TV from the 1970s and 1980s. A lot of the sci-fi shows around that period were incredibly creative For Grow Up, we took that inspiration and created a weird and wonderful world that we believe our gamers will love.

Q. Could you tell us a bit more about the art direction choices you made?

Grow Home was a very different game to any we had made before at Reflections – we felt that the character movement is very childlike, playful and naive, so we needed an art direction to match. This led us to investigate simple, geometric shapes and bright colors. We were inspired by origami designs, paper cut-out and collage styles and especially the recent wave of 'low poly' digital illustrators, whose work was a real inspiration.

Being able to realize a fully formed planet in Grow Up really allowed us to push the game to its limits artistically.We wanted to make a clear distinction between our mechanical character, BUD, and the organic alien world of plants and animals that he explores. We did that by making BUD out of square shapes, while the plants are all triangles. We knew that this geometric landscape of flat surfaces had to feel solid and for that, we needed some sophisticated lighting. Inspired by Pixar films such as Wall-E, this mostly comes from exaggerating the bounced light along the edges of objects, giving everything a real sense of its shape, even out of the sun or moonlight.

Q. What engine is the game running on?

Grow Up is using Unity 3D, the same engine that we used for Grow Home. We chose Unity because of how quickly it let us experiment and prototype – taking us from toy to game as quickly as possible with a small team.

Q. The gameplay in Grow Home was based on innovative controls (we could control the arms of BUD with procedural animations). How did you come up with this idea?

Reflections had been experimenting and playing with procedural animation. In one of the early demos, one of the toys we created had a charm and personality, a real character that many people connected with. They enjoyed how they could influence and guide it around the test environment. We developed this character into BUD, the robot in our game.

The team then experimented with different aspects of gameplay and ideas. The arms were introduced as a way of pushing and pulling objects in our physics toy box, and a byproduct of that was the character's ability to climb. This new level of interactivity really resonated with everyone we showed the game to, so we put it at the core of what was to become Grow Home.

Q. Did you bring any changes in terms of gameplay with Grow Up?

We've given BUD new abilities to help him move quickly and fluidly while encouraging a more acrobatic playstyle in the game. BUD has upgraded his hardware, taking inspiration from the Leaf Glider and Fall Flower he discovered in Grow Home, as well as adding a completely new Ball Boost ability.

The new planet BUD explores brings its own gameplay changes and challenges. Where Grow Home was a purely vertical adventure, Grow Up expands the possibilities. You'll spend less time climbing and more time leaping, falling and flying as you make your way above and around the planet in your efforts to reach the Moon.

Q. What challenges did you face?

Creating a new adventure in an existing game universe is always a challenging experience. You have to battle the need for familiarity and retain what worked well, with a desire to innovate and bring entirely new experiences. Grow Home was a predominantly vertical experience, so one of the biggest challenges we faced was expanding the gameplay horizontally. The world we have created for Grow Up is a fully realized planet and this has brought a massive change in how players can explore and progress – if you can see a horizon, you can reach it.

Q. How many missions will there be?

There is one mission: reach the moon and rescue MOM – but how you get there is entirely up to you. Grow Up throws you into a world with no limits: climb anywhere; reach anywhere; do it your way. There are also 40 timed challenges around the planet for players to tackle, along with 150 crystals, 10 ship parts and six character abilities to find.

Q. How many hours of gameplay will there be?

As well as BUD's main mission, there are 150 crystals to find and 40 challenges to complete – with the average player taking about eight hours to do so. There are BUD costumes to unlock, six abilities and eight upgrades to uncover and more for gamers to get their teeth into. Grow Up may be a small, quirky title but in terms of replayability, there is lots of potential for gamers to keep coming back for more.

Q. Will this game be released in retail locations or as digital download only?

Grow Up is a digital download title.

Q. What platforms will Grow Up be available on?

Grow Up will be released on PS4, Xbox One and PC, via PSN, Xbox Live and Steam respectively.

Q. When will Grow Up be released?

Grow Up is available worldwide in August 2016.

Q. How much does Grow Up cost?

The game will cost $9.99/€9.99/£7.99.

Q. Do we need an internet connection to play the game?

You will need an internet connection to purchase and download the game but one is not required during
play.

Q. Is this game considered a full game or just DLC? Do you plan any further DLCs coming?

This is a full, standalone title.