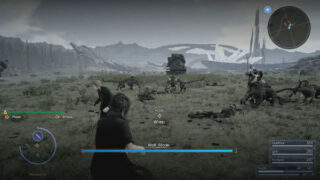 Final Fantasy XV director Hajime Tabata revealed a new "Wait Mode" style of battle for the game during an E3 2016 stage presentation.
Wait Mode can be switched on or off at anytime via the Options menu. It momentarily pauses the action to give players time to think and decide their next move within the limits of a decreasing Wait Gauge. While in this mode, the player can freely target enemies, aim magic spells, select teammate abilities, and more. While Tabata says this should make the game easier for some users to play, he added that it will also bring a bit more strategy into the heavily action-based battle system.
Also during the presentation, Tabata showcased magic synthesis. Players will be able to customize and arrange the abilities they can use. For example, you can customize fire magic to give it a healing affect. Using this customization system, you can mix up the effects of the game's three basic elements of fire, ice, and lightning.
Final Fantasy XV is due out for PlayStation 4 and Xbox One on September 30.
Watch the full presentation below.
And here's a trailer showcasing Wait Mode: