Demon Gaze II launches this fall in Japan
First story and character details.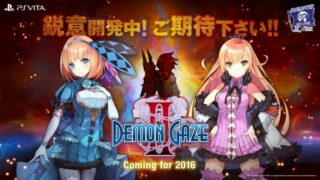 Demon Gaze II will launch for PS Vita in Japan this fall, the latest issue of Weekly Famitsu reveals.
According to the magazine, the scale of the story has greatly increased. It is set in the city-state of Asteria, which is surrounded by the ocean. It was a small city, but with the success of the inn-tavern Stella's Place, it was able to achieve rapid development.
A young man named Signa and others, who were raised in an orphanage, form a party of revolutionaries to search for the mother who raised them that disappeared. Signa is the new "Demon Gazer" of Demon Gaze 2. He has the power of the "evil eye," which he obtained after he was abducted in exchange for his memories. Joining Signa is Muse, manager of Stella's Place. She is Signa's childhood friend and the young leader of the revolutionary party. Muse also has a younger sister named Prim who works as a songstress for Stella's Place.
As for other characters, both Prometh and Cassel Glondike from the previous game will return in Demon Gaze II.
Since several years have passed since the first Demon Gaze, and a new generation of demons have come into existence in Demon Gaze II. They bear the names of constellations and take on the forms of humans and demons, and by combining the Demon Gazer with power, you can unlock new battle styles. There are also new categories of demons that didn't appear in the first game like demon songstresses.
The magazine also reveals that popular systems from the first game, including treasure hunting circles and autopilot, will return in the sequel.
Thanks, Hachima Kikou.