Cygames Next 2016 new title presentation event set for August 21
New titles, Gran Blue Fantasy anime, and more.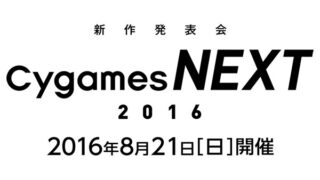 Granblue Fantasy developer Cygames will host Cygames Next 2016, an event where it plans to announce new titles, on August 21 in Tokyo, the company announced.
Here's a full outline of the event:
Announcement of Cygames' lineup of new titles
Latest information on the Granblue Fantasy anime
Uma Musume: Pretty Derby new song introduction mini-concert
Latest Cygames information and so on
Confirmed guests include voice actors Ruriko Aoki, Yuka Otsubo, Ayaka Ohashi, Minami Takahashi, Marika Kouno, Yuiko Tatsumi, Azusa Tadokoro, Eriko Matsui, Azumi Waki, and Lynn.
Cygames is inviting 500 fans over the age of 18 to attend via an online application. However, to apply, you'll need a serial code included in the July 7 issue of Weekly Famitsu (out on June 23) or the August issue of Appli Style (out June 28).
Visit the event's official website here.
In addition to the development of smartphone titles, Cygames opened a PlayStation 4-focused studio in Osaka in May last year. In December, Cygames managing director Yuito Kimura said it was still working on the game engine for its first PlayStation 4 title. And when asked about a PlayStation 4 version of Granblue Fantasy, Kimura replied, "no comment."