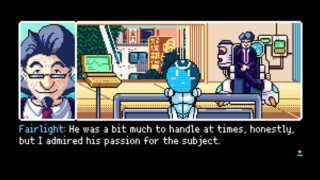 2064: Read Only Memories, an updated version of Read Only Memories (out now on PC), will launch for PlayStation 4 and PS Vita on August 16, developer MidBoss announced.
Here's an overview of the game, via MidBoss:
About

Neo-San Francisco, 2064 AD. Your life as a struggling journalist is interrupted by the world's first sapient machine, a ROM (Relationship and Organizational Manager) named Turing. Together, you and the quirky robot will encounter a colorful cast of locals and overcome challenges as you uncover the city's secrets behind the overlapping futures of technology and humanity.

Can you survive in Neo-SF? Or will the mystery go unsolved?

New Features

Full voice acting from a unique and diverse professional cast of talent, including a wrestling superstar and voices from Telltale's "The Walking Dead".
New and revamped puzzles, an even deeper story and new expressive animations for the lively citizens of Neo-SF.
"Endless Christmas", an extended epilogue giving you the opportunity to hang out with your favorite Neo-SF locals!
Even more Hassy!
Watch the cast announcement trailer below.