Valkyria: Azure Revolution made more RPG-like as a result of demo feedback
Second demo due out this summer.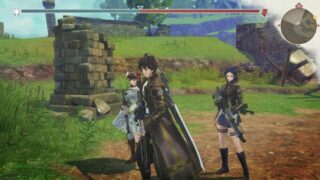 The latest issue of Weekly Famitsu features an interview with Valkyria: Azure Revolution director Takeshi Ozawa, who discusses the changes being made to the game as a result of the Battle Demo Ver. 1.0 included with Valkyria Chronicles Remastered in Japan.
Find the interview tidbits below.
We have received three times the amount of feedback from the Battle Demo Ver. 1.0 demo that we thought it would receive.
There were many harsh opinions.
The battle system has changed greatly from the demo. Details will be shared on the official website, but it is more RPG-like now.
Since the demo battle had action elements that were too intense for an RPG, you couldn't think through things as you fought, so we're introducing a new action gauge for both enemies and allies.
It's been changed so that players can optionally stop time when using weapons and magic.
Since it bears the Valkyria name, I felt the demand for tactical battles. Specifically since you can put together your unit and fight, so in order to skillfully use your allies, we're making it possible to customize their thinking. It's been fixed so that you can give them direct instruction.
The party has been upgraded from a maximum of three participants to four participants.
Field encounters have also been removed.
The next demo is due out this summer.
Valkyria: Azure Revolution is due out for PlayStation 4 in Japan this winter.
Thanks, Hachima Kikou.