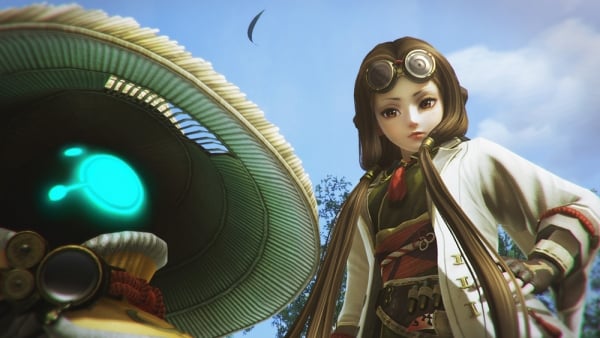 Koei Tecmo has updated the Toukiden 2 official website with new information and screenshots on the game's story, and the new characters and Oni first introduced in Weekly Famitsu this week.
Get the details below.
■ Story

The time period is the Meiji era—the world was destroyed in the Awakening. The "surface of history" that had gone unbroken was ruined, and the "underside of history" led by the evil spirits of the rivers and mountains began to swallow the world.

Large "Oni" appeared in the lands of the far north, and began going south while overrunning human habitation. Slayers, warriors deployed to Yokohama to intercept the Oni, fought against them while defending the city of Yokohama.

In the middle of it all, a giant Oni came down from the sky, and a single Slayer was swallowed by the Oni Gate that opened.

And now, ten years later—a Slayer who lost his memory washes up in "Mahoroba Village" far to the west.

■ Characters

Touya (voiced by Takamasa Mogi)

A commanding officer leading the samurai. He is a patriot that gathers up outsiders while wandering about and created a powerful military force. His revolutionary ideas underlie everything he does, and he aims to free outsiders from their subordinate positions. He's on bad terms with Yakumo.

Manadzuru (voiced by Saori Goto)

The merciless vice commander. Vice commander of the samurai unit. She is known as the merciless vice commander after Shinsengumi vice commander Hijikata Toshizo from her respect for discipline. She is a very strict and rational person, but has a weakness for cute, small animals. She's Kamuna's older sister.

■ Oni

Daibatachi

A large, beast-type Oni with supple and strong limbs. Its tail is a huge blade that can cut through all that oppose it.

Guhin

A medium-sized Oni with a big mouth that resembles a wolf. Its fan-like tail can create wind and thunder, and release powerful attacks. Even skilled Slayers should not be careless around this Oni.
Toukiden 2 is due out for PlayStation 4, PlayStation 3, and PS Vita in Japan on July 28. A PS Vita demo and PlayStation 4 demo update are due out on May 24.
View the screenshots at the gallery.