Shin Megami Tensei IV: Apocalypse story trailer, retailer-exclusive pre-order DLC announced
Deities shuffle across humans like pawns on a chessboard.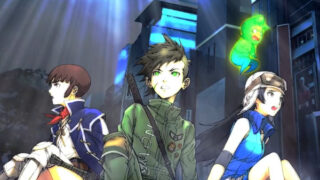 Atlus has released a new trailer and announced retailer-exclusive pre-order costumes for Shin Megami Tensei IV: Apocalypse.
Here's an overview of the story, via Atlus:
The story of Shin Megami Tensei IV: Apocalypse is one of human pawns being shuffled across a chessboard by the higher deities. One lone Hunter, the game's protagonist, meets an early demise and through a pact with a lesser god, is brought back to life in exchange for his pledge of servitude. From there, the protagonist allies with other Hunters in the ruins of post-apocalyptic Tokyo beginning a plot that crosses over with the events of the original Shin Megami Tensei IV.
Shop-specific retailer pre-order costumes include:
Power Suit (GameStop, EB Games)

A bold red and black jumpsuit that will strike fear in the hearts of demons, and should effectively hide wounds sustained in battle

Prime Suit (Amazon, Amazon Canada)

A packaging-themed jumpsuit that lets demons know that their lives will be ended swiftly and without any hassle!

Retail Hero Jumpsuit (Best Buy)

Its sharp yellow, blue, and khaki colors are perfect for those who opt for a more professional demon-hunting look.
Shin Megami Tensei IV: Apocalypse is due out for 3DS in the Americas this summer. Read more about the game here.
Watch the trailer below. View screenshots of the retailer costumes at the gallery.