The Last Guardian director discusses game design
Development team aiming for an "uneven balance."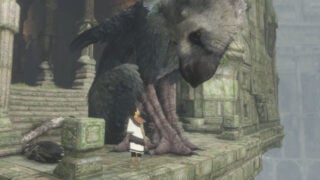 IGN is continuing its exclusive The Last Guardian coverage with a new video today of director Fumito Ueda discussing the game's design.
Topics discussed include the game's "uneven balance," puzzle design, combat, lack of a stamina bar, setting.
If you missed it, yesterday IGN published a video where Ueda discussed the game's development period, transition to PlayStation 4, and more. On Thursday, we got our first new set of screenshots since E3 2015.
The Last Guardian is due out for PlayStation 4 in 2016.
Get the interview and Gematsu-provided transcript below.
Uneven Balance

"The game starts out with the boy sleeping and waking up in the cave, and he's not really sure why he's sleeping there, but the player will understand why as they play the game, so I would like for players to figure it out as they play. The game is composed of puzzles and combat and exploration, but in terms of the balance we tried to aim for an uneven balance, so to speak. When you look at the entire game, it's pretty even, but we wanted to make it so that it's difficult for the player to forecast what comes next. We didn't want to make it where it's combat and then exploration and puzzle, and those three over and over and over, we wanted to have some kind of unexpectedness in the game, and we wanted to go against the player's expectations of what comes next."

Puzzles

"There basically is only one solution [in each area] but we try to make it so it doesn't feel that way. It feels more like there are multiple choices, but actually there is only one single choice. I think accomplishing that kind of feeling requires good balance and level design. But we didn't want Trico or the environment to just be something that's convenient for the player. We wanted the world to have a very realistic feeling and that's what we most valued."

Combat

"[Combat] is an area that I can't speak too much on at this point, and this might cause some misunderstanding, but combat is not too important in the game. It's more there to showcase the strength of Trico. The intention of the combat [encounters] are similar to that of Ico, where the combat [encounters] aren't exactly fun themselves, it's more like they exist to showcase the strength and magnificence of Trico."

Stamina

"In Shadow of the Colossus there was a stamina meter, or a meter that shows the hand or arm power of the protagonist, but in this game we will not have such a meter. One of the reasons is that we want a wide audience to play the game, and the other is that the game content doesn't require the meter. Even without the meter, I think that the environment kind of forces the player to feel that they want to hang on to Trico."

Setting

"Up to now you've been in the same place and in the same ruins and the gameplay does take place in these ruins. There are areas inside the ruins where there's vast amounts of water, there are locations that are very high or have strong wind, or have enemies, so there's a lot of variation inside the ruins, but in terms of the gameplay it's in the ruins. There is a world outside of the ruins of course, and the village that the boy came from exists in this world, too, but that's not part of the gameplay. The adventure takes place in the ruins. It's the same for Ico or Shadow of the Colossus – we don't really explain the characters or the meaning of the ruins, or the meaning of objects. We try to leave it up to the player's imagination."