Halo 5 Forge editor coming to PC
Create Forge content on PC to play on Xbox One.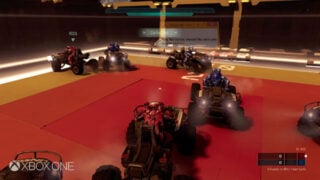 Microsoft is bringing Halo 5: Guardians' Fore mode editor to Windows 10 PCs later this year with Forge – Halo 5: Guardians Edition, the company announced.
Forge – Halo 5: Guardians Edition will be free to download and include the following features designed specifically with PC users in mind:
Keyboard & Mouse Support – For the first time ever, Forgers will have the option of using a keyboard & mouse allowing for more precision and control than ever before.
Increased Resolution – Support for multiple resolutions including 4k.
Test and Play with Friends – Enlist the help of Friends to help build, test, and play your Forge creations on Windows 10.
Build on Windows 10 and Publish to Xbox One – Experiences built on Windows 10 can be published to and played on Xbox One, opening the doors for countless new experiences to be enjoyed by players all over the world.
"Forge on the PC will finally give the mouse/keyboard editing precision the community has always been clamoring for," said 343 Industries user-game content director Tom French. "On top of that, an updated and optimized UI geared towards mouse interactions makes a lot of the inputs in Forge easier/faster than before.
"The team has continued to wonder what we'd get if we could put Forge in the hands of as many people as possible, and making it free on Windows 10 literally gives the chance to anyone who wants to jump in and try their hands at building a cool new map for Halo 5."
More details will be announced later this year.