Gravity Rush 2 IGN pre-E3 preview, screenshots
Gravity manipulating sequel playable at E3.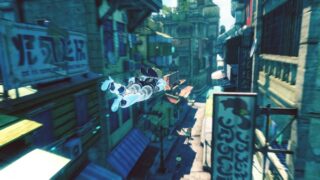 IGN has gone up with a new preview of Gravity Rush 2. The outlet got to check out an early build of the playable demo Sony Interactive Entertainment will be taking to E3 next month.
Gravity Rush 2 is set in an entirely new city, reminiscent of a Western European-inspired take on BioShock Infinite's Columbia. There are blocks of islands bobbing about high up in the sky, while barge-like platforms move between them. City blocks are filled with people, and vehicles criss-cross the skies above.
"In the original there was very much a European feel, a very subdued town environment," creative director Keiichiro Toyama told IGN. "But in this game we want it to be more lively, more dynamic, more intense, to really have a strong city flavour… there are always lots of things moving, it's a very dynamic environment."
The world itself is 2.5-times the size of the original game, and there are over three times as many missions. Toyama said that the team "made sure that there's lots of things you can do in the missions, it's not all the same thing."
As previously showcased, main character Kat has three styles of combat.
There are three styles you can switch between during combat," Toyama said, "and you can switch at any time, no matter where and when."
"Lunar Style" changes the way gravity affects Kat. Her attacks are weakened, but she is extremely light and can jump very high, and can use her gravity actions without spending the gravity gauge. Gravity Kick also becomes Wormhole Kick, which can be used to teleport directly to the enemy.
"Jupiter Style" makes Kat heavier. She becomes slower, but has increased attack power. Her Gravity Kick becomes Surge Kick, which can destroy groups of enemies and "pretty much anything in the nearby area."
Finally, there's her normal style that returns from the first game. It also comes with a powered up version of her "Gravity Grab" move that creates a swirl of objects around her that she can fling at enemies.
Each of Kat's fighting styles, called "Gravity Styles," can be upgraded over the course of the game. Raven, Kat's rival from the first game and ally in the sequel, will also join Kat for double-team attacks.
Also new to Gravity Rush 2 are "Talismans," which add special effects to Kat.
"Many of them are things that you would probably guess," Toyama said, "things that make the gauge decrease slower, things like that, very basic, but there are others that are a little bit more finicky, where something will become half as powerful, but as a result another thing becomes twice as powerful, things like that."
The better Talismans can be discovered through the game's new mining mode, which Toyama isn't sharing much information about, but said are "separate stages that allow players to gain power-up items that are different from ones they would get from ordinary gameplay." It will have an asynchronous online element where players can get help from their friends, as well as a challenge mode "where your friends can challenge you to complete missions at a certain speed, and their ghosts will be imported into your game and you can race them."
The mining theme comes into play as, at the start of the game, Kat loses her gravity powers and ends up in a poor mining town, where she is forced to work before getting back her powers and venturing into a new city.
Gravity Rush 2 is due out for PlayStation 4 in 2016.
View the new set of screenshots at the gallery.