Etrian Odyssey V 'Shaman' and 'Hound' class trailers
The support specialist and the summons attacker.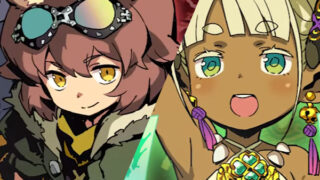 Atlus has released a pair of new Etrian Odyssey V: The End of the Long Myth trailers introducing the "Shaman" and "Hound" character classes.
The Shaman is a back-row support specialist. It is a medium class that can communicate with things unseen, and is able to heal wounds and acquire various divine protections.
The Hound is a long-distance summons attacker type. It is a hunter class that specializes in use of the bow and arrow. It works together with a hound and falcon, and triumphs in attacking and binding enemies' body parts.
Etrian Odyssey V is due out for 3DS in Japan on August 4.
Watch both trailers below.
Shaman
Hound