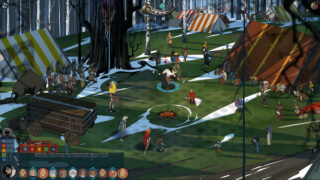 The Banner Saga 2 will launch digitally for PlayStation 4 and Xbox One on July 26, publisher Versus Evil announced. The game was released for PC in March.
"We are happy that we were able to create a development schedule where the console version of Banner Saga 2 could come out shortly after the PC version," said Stoic Studios technical director John Watson. "Although our team size dictated what we could do with the first release, we knew that a two year wait for the sequel was just not acceptable, so we worked extremely hard to ensure that console gamers could continue their journey in a timely fashion."
Stoic added that, "Our goal for Banner Saga 3 is to simultaneously ship on all platforms!"
Watch an accolades trailer from the PC version below.