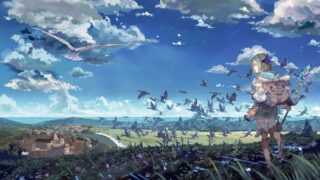 Gust has shared the first official information and screenshots on Atelier Firis: The Alchemist of the Mysterious Journey, its newly announced Atelier game due out for PlayStation 4 and PS Vita this fall in Japan.
Get the information below.
■ Journey a Mysterious New World

After launching Atelier Sophie: The Alchemist of the Mysterious Book last year, Gust is aiming at a new standard for the Atelier series.

The next Atelier is set in a world where players can unravel a story all their own. In order to realize this goal, the theme of this new game is "journey."

The protagonist of this game is an innocent girl who has never left her town and longs to see the outside world. One day, thanks to an unexpected opportunity, she comes into contact with alchemy and sets her sights on the world beyond her own.

From great plains to snowy mountains, in this vast world with a variety of faces, the girl will be met with first time wonders and discoveries, as well as face various challenges.

How will this girl, with alchemy by her side, face these challenges? There is no single answer. The story will change, little by little, based on the girl's decisions.

The player will be the guide to what road the girl will take and how the story will unfold. By all means, please enjoy the new world of the Mysterious series.

■ Story

A remote region full of various "mysteries." In its corner, in the middle of the wasteland, is a small town.

It is a town where those who work as miners nestle close to each other. It is an underground city formed within a hollowed out, rocky mountain. Because of the environment, the winds that tell the change of season do not blow, and even the sunlight only shines in faintly from crevices between the rocks.

A girl lives together in this town with glowing crystals and ores.

This girl had a dream—a modest dream to freely walk the outside world. But it was also an unexpected wish come true.

Preventing the girl from her dream is a huge iron door that blocks up entry to the town. Only a select few are allowed to pass through the door, and it is too heavy for the slender-armed girl to move.

Keeping her desire to visit the outside world to herself, she watches the door that doesn't open each day. However, that every day suddenly comes to an end.

One day, the girl comes into contact with the power of alchemy. This, what could be called fated, meeting invites the girl on a journey.

A mysterious journey that continues on without end—

■ Characters

Firis Mistlud

Age: 15
Job: Alchemist
Illustrated by: Yuugen
Voiced by: Kaede Hondo

The protagonist. She is a girl who lives in an underground mining town enclosed by a giant door. She has a special ability that lets her find out where ores are buried, and works as a miner while taking advantage of that ability.

Because she has never left her town, she has a strong, dream-like yearning for the outside world.

Shes gets a feel for alchemy after a certain opportunity, and uses it to journey the vast world. She has a calm and quiet personality, but is strong at heart.

Liane Mistlud

Age: 18
Job: Hunter
Illustrated by: NOCO
Voiced by: Azusa Sato

Firis' older sister, who lives in the undeground mining town. She is an excellent hunter and one of the select few allowed to leave the town.

She cares deeply for her younger sister Firis, and is known throughout the town for how she dotes on her.

She understands Firis' feelings of wanting to go outside the town, and is secretly grieving her younger sister's current circumstances.

■ Liane Tags Along

Firis, who is unable to freely come and go in her hometown deep underground, wants to visit the outside world, and her desire grows stronger each day. Her only connections to the outside world are the adventure book that she reads intently and her older sister Liane, who is the only one allowed to go outside.

To make her way outside, Firis begins studying alchemy. And thanks to the support of Liane, who understands the feelings of her younger sister, she is soon permitted to leave town, albeit with a certain condition. That condition: "Become a full-fledged alchemist in one year." Worried about her younger sister, Liane tags along, and Firis' first ever journey begins.

■ Journey the Atelier Series' Biggest Ever World

The outside world that Firis and company will travel is endlessly vast, and a single field can connect areas such as a port town, river, and rocky mountain. The warm setting of Atelier is still the same. Together with Firis, you can run about these grand scale fields never before seen in the series.

■ A New Outfit for Each Location

While traveling the world's various locations, Firis will visit areas with a variety of characteristics, whether it's intense cold or humidity. Firis' outfit will change to suit the climate and local nature of that region. Her various appearances will make the journey even more enjoyable.

■ Firis' Choices Affect the World

During Firis' journey, she'll happen across a variety of incidents. And she can overcome them in a variety of ways. There is not necessarily a single solution. Depending on how Firis' chooses to address them, the story, and sometimes even the fields, will change.

—Oh no, a broken bridge! What will Firis do?

—To fix the bridge, Firis can collect stones as materials and take advantage of her mining experience. She can use those stones to make building stones through alchemy and pass them on to a carpenter who will complete the bridge.

—Otherwise, Firis can find another way across the river. By walking around, she'll discover a suspicious cave. It seems passing through here will go beyond the valley, but…

■ The Traveler's Bonfire

In Atelier Firis, rather than focus on a single town, players will continue to travel across a great number of fields. So if you want to perform syntheses while traveling, you'll need to use a "Traveler's Bonfire," which is available in various places. Here, Firis can also put up a tent.

■ Synthesis, Material Collection, and Battles

Players can use the materials gathered in the fields to perform syntheses in the atelier. Grow as a traveler by facing against attacking monsters and seeking out special materials in unexplored regions.

Synthesis

Synthesis, which has become the representative element of the Atelier series, will see players combining materials like a puzzle to create any item in their own way.

There is also a new type of synthesis called "Superdreadnought Synthesis." In the world of Atelier Firis, this cannot be compared to standard synthesis. As the name suggests, the things you can synthesize are superdreadnought. This ignores the size of your alchemy pot, making it possible to create amazing things. Stay tuned for more information.

Material Collection

There are a large number of ingredients to be used during synthesis that can be found in the fields. Hit the tree with your staff, or break a rock with an item… Look everywhere in the field to discover new materials.

Battles

You'll also be attacked by monsters during material collection. Use the items you've synthesized and the power of your allies to repel these enemies. You might even get some unexpected materials from these monsters.

■ First-Print Bonus and Special Editions

First-Print Bonus

First-print copies of Atelier Firis: The Alchemist of the Mysterious Journey will include two outfits for Firis.

Premium Box

The Premium Box edition of Atelier Firis includes:

A copy of the game
Atelier Firis visual book
Atelier Firis soundtrack CD
Special-drawn B3 cloth poster
Three Atelier Firis clear art cards
Product code to download a Firis exclusive outfit and exclusive theme

Special Collection Box

The Special Collection Box edition of Atelier Firis includes:

A copy of the game
Atelier Firis visual book
Atelier Firis soundtrack CD
Special-drawn B3 cloth poster
Three Atelier Firis clear art cards
Product code to download a Firis exclusive outfit and exclusive theme
Nine crystal paperweight cubes
Special Collection Box special-drawn B2 cloth poster
Product code to download a Special Collection Box special theme

■ Niconico Broadcast

Atelier Firis will make its video debut on June 13 during a Niconico broadcast. Details will be shared soon via the official website.
View the screenshots at the gallery.