Sengoku Otome: Legend Battle announced for PS Vita
Popular pachinko series comes to PS Vita as an action game.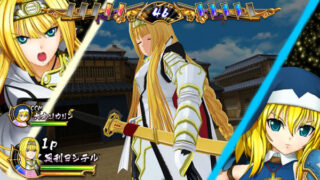 Shirogumi New Media Development is bringing its Sengoku Otome series to PS Vita in the form of a tag action battle game called Sengoku Otome: Legend Battle, the studio announced at Niconico Chokaigi 2016.
Sengoku Otome is a pachinko series that began in 2008, and has seen six titles becoming the company's flagship franchise. It has since expanded to various media, including anime, comics, and Android apps. It features the historical figures of Japan's Sengoku period portrayed as women.
Due out on August 25 in Japan, Sengoku Otome: Legend Battle is an open-field tag-team battle action game where players can run around at high speeds fighting as the armored girls. Story Mode consists of 46 chapters, with high-quality animated scenes by Shirogumi New Media featured throughout, as well as fully voiced dialogue for all 23 characters. In addition to the volume-heavy Story Mode, there is also a four-player ad-hoc Battle Mode.
The PS Vita game also introduces three new military commanders:
Maeda Toshiie (voiced by Kana Asumi)

Hideaki Kobayakawa (voiced by Maaya Uchida)

Sen no Rikyu (voiced by Yui Horie)
Watch the debut trailers below. Visit the official website here.
Trailer #0
Trailer #1
Thanks, Famitsu.