Ray Gigant launches May in the west, first English screenshots
Plus, tons of English info on the Experience-made dungeon RPG.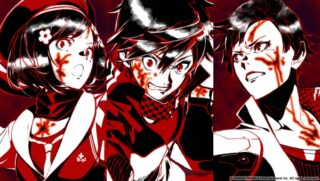 Ray Gigant will launch for PS Vita in North America and Europe via the PlayStation Store in May 2016, publisher Acttil announced.
The Experience-developed dungeon RPG features three main characters, all with the same goal of saving the world, but with different sets of ideals. As the player, you'll witness how their conflicts impact their journey.
Acttil also released the first English screenshots and a slew of information.
■ Information

Bandai Namco Entertainment and Experience join hands to create a brand new dungeon crawler RPG!

Ray Gigant is a unique dungeon crawler RPG which combines dungeon crawling adventure with Japanese visual novel like story telling. Players will first be introduced to the gripping tale of Ichiya who is a young fighter shrouded in mystery. As the story progresses the player will be introduced to new characters which you later get to experience as the main character. There are a total of 3 different tales told in the perspective of Ichiya, Kyle and Nil.

Innovative Battle System

Unlike ordinary turn based RPG battles, Ray Gigant adopts a unique style where you will be fighting massive enemies from different distances and perspectives. Your party is comprised of 3 characters, each with their own unique abilities to engage in 3-way view battles. Also use the rhythm-based, Slash Beat system to unleash deadly attacks while
feeling the fate of the heroes and heroine resonate through their bodies!

In a not so far away time of June 20XX… Earth's major cities are being attacked by giant creatures
called the Gigant. Each nation's force tried to thwart the attacks to no avail. But then it was discovered that a single boy in Tokyo was able to defeat these monsters.

His name, Ichiya Amakaze. This boy that defeated Gigants using a mysterious power called the Yorigami came to be known throughout the world. But, after defeat of the Gigants, he lost control of his power… After destroying the city he protected, he loses his conscious. It was then where he was detained and sent to a safe location where his fate would unfold…

■ System

Flow of Game

In Ray Gigant, players will start off with the story part to set the setting and then adventure off into the dungeons for exploration and battles. Your team will be comprised of three characters, each with unique abilities and will have to face various forms of enemies. After boss battles there will be event scenes to further progress the story.

■ Characters

Three Main Characters

Ichiya Amakaze – Chapter 1: Hero. A light-hearted, energetic hero of Chapter 1. Coming from a normal family, he awakens to a mysterious power, the "Habakiri," during the siege on Tokyo.
Kyle Griffin – Chapter 2: Hero. The hero of Chapter 2 born a noble, but raised without love from his mother. Very intelligent, but his upbringing gave him a skewed view of the world. Uses the Yorigami, "Answerer."
Nil Phineus – Chapter 3: Heroine. An innocent girl trained to fight the Gigants. Uses the Yorigami, "Kukulkan." Works hard to protect the islands in the Caribbean from the Gigants.

The Allies You Trust

Mana Izano – Chapter 1: Ally. Ichiya's long time friend. A caring girl who can't seem to differentiate love from friendship.
Kazuomi Miwa – Chapter 1: Ally. Ichiya's reliable partner. Very stern and straightforward in his doings.

■ Your Nemesis: The Gigants

Gigants are mysterious life-forms that invaded the Earth from space. Various forms and sizes of Gigants have been confirmed, and each take the form of creatures and beasts of legend. The difference – their celestial aura of prominence are gone, and instead, carry the form of the creatures of legend in their "tainted" form.
View the screenshots at the gallery.