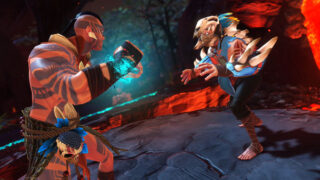 Insomniac Games has announced the final release dates for Song of the Deep and Oculus Rift virtual reality title Edge of Nowhere, as well as announced two new virtual reality titles for Oculus Rift.
Song of the Deep
Song of the Deep, Insomniac's Metroidvania-style 2D adventure game about a young girl looking for missing father in the depths of a vast ocean, will launch for PlayStation 4, Xbox One, and PC at GameStop and digitally on July 12. It will be published by GameTrust, GameStop's new publishing division.
Watch a new story trailer below.
Edge of Nowhere
Edge of Nowhere, Insomniac Games' Oculus Rift third-person action adventure game where players travel to the far reaches of the Antarctic mountains in search of a missing expedition team, will launch via the Oculus Store on June 6.
Feral Rites
The first of Insomniac Games' new virtual reality titles is Feral Rites, an adventure brawler where players fight their way through missions and quests to avenge their father. It is set on a mystical island and will see players exploring unique areas, including jungles and temples, while mastering new abilities, including the ability to transform into a feral beast. It is due out via the Oculus Store this fall and will be playable at E3 this year.
Watch the teaser trailer below.
The Unspoken
Insomniac Games' second new virtual reality title is The Unspoken, an Oculus Touch-enabled game that puts players in a hidden world of spell-casting and magician's duels. Players will manipulate their environments with arcane forces, summon monstrosities, and rise up through the ranks of an urban magic fight club in player-versus-player combat. It is due out via the Oculus Store in November and will be playable at E3.
Watch the reveal trailer below.