The latest issue of Weekly Famitsu has the first Japanese preview and screenshots of Zero Time Dilemma, the latest entry in the Zero Escape series due out for PS Vita and 3DS in North America and Europe this summer (the Japanese release window is still to be announced).
The adventure game sees nine characters locked up in a basement nuclear bomb shelter, who must take part in a death game in order to escape. Character design is being handled by Rui Tomono.
The nine participants include:
Carlos (voiced by Tomokazu Sugita)
Akane (voiced by Miyuki Sawashiro)
Junpei (voiced by Tatsuhisa Suzuki)
Q (voiced by Aki Toyosaki)
Eric (voiced by Akira Ishida)
Mira (voiced by Maaya Sakamoto)
Diana (voiced by Mamiko Noto)
Phi (voiced by Chiaki Omigawa)
Sigma (voiced by Daisuke Ono)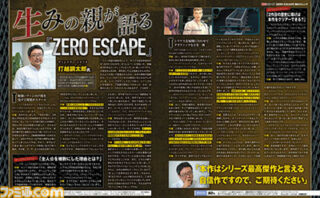 Furhter information has yet to leak. Famitsu has eight pages of coverage, including details on each character, the story, system introductions, and an interview with series director Kotaro Uchikoshi.
Thanks, Famitsu.
Update 9:25 a.m.: New tidbits from Famitsu's interview with director Kotaro Uchikoshi have come out.
Why has "Extreme Escape" disappeared from the title?

"One reason is that we want to renew the image [of the series]. We want to bring the overseas name Zero Escape over without changing it."

What's the meaning of the subtitle? (In Japan, the game is called Zero Escape: Time Dilemma.)

"What is the right thing? The content of this game poses a problem like this to the player.

"In the game, there is an 'Ultimate Choice' that appears, which is not to be declared as the right choice.

"There are game-like elements where your choices affect the progress of the story, and the ending changes and such, but since the player will question what is right, we want you to think about which one is good and which one is evil, so we put 'Dilemma' in the sub-title."

As the final chapter, will all mysteries be resolved?

"All of the mysteries from the previous games will be solved. We're making sure that the people who play it for the first time will also enjoy it."

Are there any extreme scenes?

"The 'Ultimate Choice' is a thing where one's life is put at risk. I want the player to be well-worried. Since we don't want to soften up the presentation for the sake of age regulations, we're putting out the presentation how I want it without changes. So the possibility that this is the first Z-rated game for 3DS is high. (Laughs.)"

What's the reason for changing the character designer?

"I thought about asking Kinu Nishimura this time, but I wanted to give the impression that [this game] has changed significantly from the previous game. Also, since the production method went from backgrounds and characters drawn in standing poses to 3D cinematics, I wanted a more impressive design. I asked Rui Tomono this time, whose [work] was likely to be accepted without any resistance overseas while still having a typically Japan-like touch."
Thanks, Hachima Kikou.
Update 3:45 p.m.: Here is some more information, via [email protected]:
■ General

Director and Scenario – Kotaro Uchikoshi
Character Designer: Rui Tomono
Sound: Shinji Hosoe

The story is set about one year after 999: 9 Hours, 9 Persons, 9 Doors in December, 2028. On December 31, 2028, at the Nevada desert experimentation facility Dcom, community life began, and nine days after, [redcated].

Development is 80 percent complete.

■ Characters

There are three teams. The leader of each team is the protagonist. The three protagonists know nothing of previous events and will learn through dialogue and such.

Team C

Carlos (voiced by Tomokazu Sugita) – A hot-blooded man with a strong sense of justice doting on his younger sister, who has an incurable disease.
Junpei (voiced by Tatsuhisa Suzuki) – After the events of the first game, he joined a detective agency in order pursue Akane, who disappeared. He is currently a runaway.
Akane (voiced by Miyuki Sawashiro) – She appears to be a neat and clean woman, but she actually specializes in trickery.

Team D

Diana (voiced by Mamiko Noto) – A pacifist who doesn't like fighting, normally a nurse.
Sigma (voiced by Daisuke Ono) – He is only 22 years-old, but he has walked a complex and bizarre life. Phi will occasionally call him an old man.
Phi (voiced by Chiaki Omigawa) – A blunt woman. In order to save the world, she participates in the Dcom experiment.

Team Q

Q (voiced by Aki Toyosaki) – A boy who lost his memory and wears a strange, spherical helmet that looks almost like a pig's face.
Eric (voiced by Akira Ishida) – A young man who works at an ice cream shop and is dating Mira.
Mira (voiced by Maaya Sakamoto) – A sexily-shaped woman who is dating Eric.

Other

Zero (???) – An unidentified character who wears a black mask. He is the ringleader of the death game, but his purpose is a mystery.
Gab – An old dog who can fit through air vents people can't travel through as to move about different areas.