Wii U's Project Guard re-revealed as Star Fox Guard, included with Star Fox Zero
Otherwise known as Star Fox tower defense.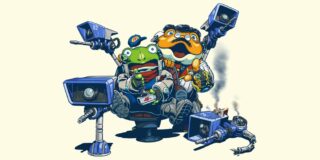 Nintendo has re-revealed its Wii U game Project Guard, first announced at E3 2014, as Star Fox Guard. It will be included free with Star Fox Zero when it launches in North America and Europe on April 22.
In Star Fox Guard, players set up 12 cameras to find and defeat enemies who are attacking the mining site of Slippy Toad's uncle, Grippy Toad. The game includes about 100 stages, but players can also create their own stages by editing the placement of enemies and uploading their levels online.
The only way to get the physical version of Star Fox Guard is by purchasing the packaged version of Star Fox Zero. It can also be purchased by itself from Nintendo eShop for $14.99. Customers that purchase the digital version of either Star Fox Zero or Star Fox Guard will receive a $4.99 Nintendo eShop discount toward the other game.
Nintendo also showcased more of Star Fox Zero. Multiple paths branch out to give players plenty of places to explore, and each route gives them a completely different experience, with each battle posing its own set of unique challenges. There is also a two-player mode where one player can fly the Arwing while the other player aims and shoots. Additionally, by tapping the Star Fox Amiibo, players can gain access to the Arwing from Star Fox 64.
Watch a new set of videos below. View a new set of Star Fox Zero screenshots here, and a set of Star Fox Guard screenshots here.
North America
Europe
Shigeru Miyamoto Interview
Gameplay