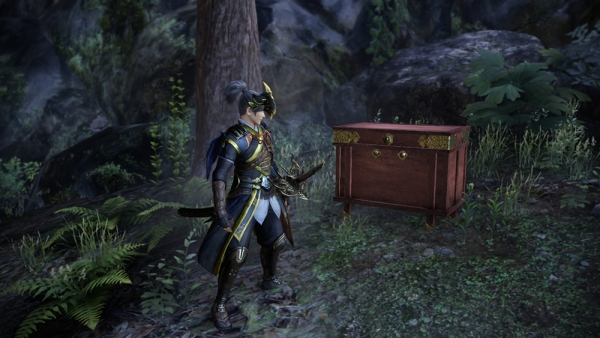 Koei Tecmo has updated the Toukiden 2 official website with new information and screenshots on the game's latest characters and its world.
Get the details below.
■ Characters

Kamuna

A quiet, blunt, lonely swordsman who belongs to the Slayer's samurai troops. As an influential person who hasn't been defeated in his lifetime, he has earned complete trust from those around him. He also has a weakness for Tenko (Toukiden's mascot character).

Tsubaki

An overly serious, hardworking woman who completed the Ryouzen (the organization that oversees the Slayer village) warriors training course. She lost her mother during the "Awakening" tragedy. She has a strong desire for improvement, aiming to become the top Slayer, and works hard training every day.

■ Midlands West

In the spirit world where space-time is distoreted can be divided into "regions" by the characteristics held by each era of Japan. The "Yore," "Grace," "Honor," "War," "Peace," and "Chaos" regions exist around the Mahoroba Village. And as the spirit world is filled with a dangerous gas, unless you're a Slayer with a strong soul, periods of long activity are impossible.

Mahoroba Village

Under the huge rock "Iwakura" is a village that opens in the mountains. It is the setting of this game. After the Awakening, it becomes the western battlefront of the "Midlands." Currently, it is without a mind to lead the Slayers, but there is a Sacred Shrine Maiden in its highest seat.

"Yore" Region

A "region" with ancient characteristics. Blazing lava flows in the caves among its mountains. At its deepest level, it is said that there is an ominous ancient shrine.

"Grace" Region

A "region" with characteristics of the Nara and Heian eras. Its utterly ruined town is submerged in a poisonous swamp. Traces of the Grace era have rotted and disappeared in the gloomy rain.

"Honor" Region

A "region" with characteristics of the Kamakura and Muromachi eras. The ocean has frozen over, with the sea's raging waves pressing overhead. Proof that fearsome warriors once lived here is trapped in the cold ice and snow.

"War" Region

A "region" with the characteristics of the Sengoku era. A huge castle floats in its golden sky. A sturdy castle without any sign of life, its majestic appearance is merely in vain.

"Peace" Region

A "region" with characteristics of the Edo era. Embraced by abnormally grown trees, its flower street is sleeping. The still silence is tinged more with destruction than with peace.

"Chaos" Region

A "region" with the characteristics of the Edo era. In its vast deserts are huge sunken warships, showing signs of sand naval battles. The dream of restoration embraced by everyone blows away with the sand in the wind.

■ Battlefield Discovery

Requests

The village's residents and Slayers can ask requests. Handling these requests is also the duty of a Slayer.

Inscriptions

Structures with a strange texture. If you touch it, it is said that mysterious text will flow into your head.

Boxes

Storage boxes for Slayer use can be found in various locations. It can be used to give goods that you no longer need to others.

Shirube

A golden Slayer crest that floats in mid-air. It is unknown who they were created for and what purpose they serve, but they are hidden in various places. It is said that the person who finds all of them will be visited by happiness.
Toukiden 2 will launch for PlayStation 4, PlayStation 3, and PS Vita on June 30 in Japan. A PlayStation 4 demo will be released via the Japanese PlayStation Store on April 11.
View the screenshots at the gallery.