Genkai Tokki: Seven Pirates story, characters detailed
Official website updated with new information.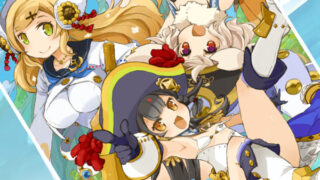 Compile Heart has updated the Genkai Tokki: Seven Pirates official website with details on the game's story and characters.
Get the information below.
■ Story

A pirate girl named Parute is in the middle of a voyage to find treasure when she is dropped into the ocean by a monster child wearing a bra on its head named Otton that suddenly appears.

—And the place where she finally arrived was the "Monsupi Sea," a phantom sea rumored to be hiding treasure.

There are no humans living there, but rather various "Monster Girls" and the "Pai Clan" with familiar-looking heads.

On this unknown land, while surrounded by strange creatures, Parute decided to look for hidden treasure.

Will she find the treasure in sleeping in the Monsupi Sea and return back home safely…

■ Characters

Parute Kairi

A girl who unexpectedly washes ashore the Monsupi Sea. She is bright and positive, and decides to use the situation as a chance to search for the Monsupi Sea's treasure.

Waffle

A monster girl treasure hunting in the Monsupi Sea. She is mischievous and likes having fun. Her nose comes in handy when it comes to finding treasure.

Jewel

A pirate monster girl in the Monsupi Sea who owns a pirate ship. She has a ship, but is facing poverty troubles for some reason.

Claret

A pirate monster girl who attacks a pirate ship. She bumps into the pirate ship while drifting about the sea, and then attacks it.

Sakyura

A demon-looking monster girl who lays waste to pirate ships for the sake of being bad. She is confident in her sex appeal and uses charming attacks.

Poron

A monster girl living in a ghost ship. Because she's a shut-in on a haunted ship, she is quiet, but also naive in selfishness.

Rindo

A monster girl and captain of pirates. She has confidence in her skills and tends to find most things bothersome, preferring to settle a dispute by fighting rather than talking.
Genkai Tokki: Seven Pirates is due out for PS Vita in Japan this summer.