Dragon Quest Monsters: Joker 3 details Great Riders Cup
New element takes advantage of the Ride System.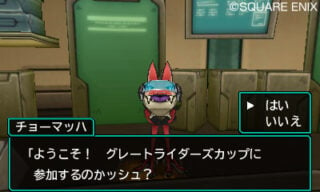 Square Enix has released Dragon Quest Monsters: Joker 3 information and screenshots detailing the game's recently revealed "Great Riders Cup" element.
Get the information below.
■ Great Riders Cup

The Great Riders Cup is a new element that takes advantage of Dragon Quest Monsters: Joker 3's ride system.

Players will compete against other monster masters using their monster ride techniques. The rules are simple: catch the slimes on the field and bring it back to your goal. Each time you bring a slime back to your goal, you'll earn a point. The monster master who earns the most points within the allotted time is the winner.

Chomach, part of the Nochora family, is in charge of the Great Riders Cup reception desk. There are various ranks within the Great Riders Cup, and by clearing high ranks you can earn various rewards.

First, you'll choose a monster to ride. In the Great Riders Cup, the level and size of the monster is irrelevant.

Then, you'll try to capture as much slimes on the field as possible, bringing them back to your goal to earn points.

You can choose to carry a number of slimes at the same time, earning a large quantity of points all at once upon bringing them to your goal.

Each monster has its own different abilities, including movement speed and attack techniques.

By using an "Impact Stomp," you can attack the other party and take away their slimes.

A variety of items will fall on the field. Utilize them well in competing against the other monster masters.

Rockbombs can blow up the enemy's goal.

If you manage to carry back a gold slime to your goal, you'll earn more points.

If you earn first place, you'll acquire a lot of experience points. Additionally, depending on the degree of difficulty, you may be able to obtain hard to acquire items.

The Great Riders Cup can be played single-player, but also in local or Wi-Fi multiplayer. When playing with others, you can also earn Communication Coins.

Local Battles

In local battles, a total of four players can enjoy the Great Riders Cup. When you don't have enough people, you can use CPU enemies, as well.

Wi-Fi Battles

Compete with others in time attack battles to earn the decided score within the determined time. Challenge players nationwide.
Dragon Quest Monsters: Joker 3 is due out for 3DS in Japan on March 24.
View the screenshots at the gallery.