Caligula details prologue, Mobius, and Digiheads
Official website updated with world details.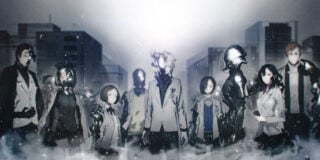 FuRyu has updated the Caligula official website with information on the game's prologue, virtual reality world of Mobius, and the "Digiheads" its inhabitants have been transforming into.
Get the information below.
Prologue

—Come hear the voices from within the darkness. The main voice called itself "μ." When asked, you answer with your own name. μ proclaims proudly, "It is best to forget the painful reality." "From now on enjoy your life to the fullest." The painful reality… You can already no longer remember anything of the sort. Perplexed and in another place, μ says "Welcome to Mobius," telling you the name of this world. At that moment, your consciousness was cut.

When you become aware, you realize you're in Kishimai High School. As your consciousness drifts out of a haze you vaguely realize the situation. It seems you're in the middle of a graduation ceremony, and the graduation greetings are going to be performed. After a short time, the rearranging of your memories comes along… And you're a Kishimai High School first year student. A typical, carefree high school student living an ideal student's life in the midst of youth.

After some time passed, the school entrance ceremony began. You, who are of irreproachable conduct and excellent grades, and heavily trusted by those around you, were supposed to make a speech as the second year student representative. You go up on stage to make the address. However, a first year representative boy named Kensuke Hibiki then comes up on stage who, just the other day, read a response as a graduate.

I remembered the intense discomfort in your eyes as you projected Kensuke's face to be that of a monster. There are more. You realize that there are similar monsters in the students that would have seemed normal until now. You could not stand the fear, jumped off the stage, and began running to escape.

You noticed, you remember it all. This is a different world. The existence of reality. You experienced pain in reality… But even so, you must return.

"He lacks talent." "That person, too…" "I've seen it…"

During the ceremony that continued as if nothing had happened—where you jumped off the stage—only a few students were staring.

Mobius

An ideal world that the self-developed virtual idol μ created for the happiness of the people.

Only those who suffer in reality and sympathize strongly with μ's songs are invited to Mobius.

In Mobius, people forget the existence of reality, and regardless of age, become high school students, as μ believes "it is man's most glorious time."

Those invited have different appearances and surroundings from reality, and become "the person they wanted to be," and repeat a high school life that never ends. With the exception of some people, there are none that realize Mobius is not the real world, and unnatural occurrences have become unrecognizable in Mobius.

In order to grant the wishes of her inhabitants, μ preserves the energy of Mobius' creation by singing songs composed by human collaborators called "Ostinato Musicians."

Currently, only an area of the city called Miyabi has been created, with buildings and geographical features composed from the memories of the humans invited to Mobius.

Digihead

The nickname for μ and Ostinato Musician fanatics.

Emotions are fascinating solidified expressions of the mixed-up feelings within people that pierce the skin. The main characteristic is the acquisition of euphoria. The elevation of violence. A decrease in linguistic ability can also be seen.

Additionally, the people who change into Digiheads lose their self-awareness, and their change of appearance is not noticed by normal Mobius residents that forgot about the existence of reality.

Typically, those whose reason and public face suppress their desire in reality are more aggressive the more dependent they are on Mobius, considering there are no restraints. Mobius is a place thought to be the cause of emotional outbursts. Their existence is affirmed, and that rate of aggressive erosion is increased at a high rate when they listen to the μ's music.

Although she is able to attack those who take on a negative attitude towards her, μ's only principle of conduct is "to make known the goodness of μ."
Caligula is due out for PS Vita in Japan on June 23.