Caligula details Imaginary Chain, Catharsis Effect, and Ostinato Musician Sweet-P
New details about the upcoming PS Vita RPG.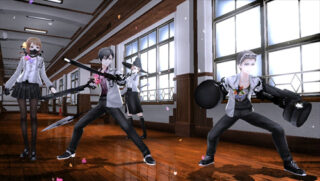 FuRyu and Aquria have released new Caligula information and screenshots detailing the game's Imaginary Chain battle system, over 500 unique characters, Catharsis Effect ability, and one of the Ostinato Musicians players will face against.
Get the information below.
■ Imaginary Chain

"Imaginary Chain" is a system used during battle that lets you see how your selected commands will play out beforehand by visualizing a "fantasy." The "fantasy" will update for each member action you select, so while first pre-reading the actions of both allies and enemies, you can then put them into effect. It's a system where anyone can easily put together a string of fancy combos.

Basic Flow

1. One of your allies lands an attack with the Launch attribute. The enemy is confirmed to launch into the sky, unprotected.

2. To continue launching the enemy, you select an attack aimed for the sky. Within the "fantasy," you confirm that the enemy gets hit.

3. A pursuit attack is selected for the third ally. The "fantasy" is updated, showing the enemy defenselessly knocked down when the attack connects.

4. Finally, the fourth ally selects a finishing blow. Within the "fantasy," you confirm that all four allies' attacks connect, and put them all into effect.

5. When the stopped time begins to move again, your consecutive attacks are put into effect and the enemy is greatly damaged.

■ More Than 500 Unique Students

In the ideal world of "Mobius," where you'll spend your time living the ideal academy life just as you please, more than 500 students will appear. Every student has their own name and profile, and each has their own traumas that they dealt with in the real world, but have forgotten in Mobius. Your relationships with them may be a clue to escaping Mobius…

Inside Mobius, it's possible to communicate with everyone.

As a result of communication, the people you talk to's reactions will also change. Every one of them are enjoying Mobius.

By growing closer with the people you talk to, their profiles will eventually be disclosed. Nothing else like this exists where there are more than 500 students.

■ Catharsis Effect

The Catharsis Effect is a strange talent that only appears in Going Home Club members. It causes a black mass breaks through their skin and take on the form of a weapon. One feature common to all members is a stake that ruptures painfully through their chest and grows flowers. Its shape varies greatly depending on the person, and it is said to strongly represent the person's inside against their will.

Protagonist

—Normal

—Catharsis Effect

Shogo Satake

Shogo's Catharsis Effect takes on the form of a bizarrely huge pistol. Both of his hands are fitted with solemn handcuffs. He is hysterical, a side unlike his usual self… In battle, he is a mid- to long-distance attacker.

Mihue Shinohara

Mihue's Catharsis Effect takes on the form of a hammer. Her mouth, which you would expect to be a charming feature, is covered with manifested armor. She is a girl who doesn't hide her disgust and slings attitude freely, but what caused her to have such a black heart?… In battle, she is a short-range, high-power attacker.

■ Ostinato Musician: Sweet-P

Name: Sweet-P
CV: Emi Nitta
Character Soundtrack Composer: OSTER project

A fashionista who lives by the creed of "dreamy cuteness" and acts both as Mobius' fashion leader and as an Ostinato Musician. Her eyelashes are long and her eyes big and beautiful. She writes music that sounds just like she looks—girly, pastel, fairy-tale songs that girls tend to like. She is a popular musician that some women go crazy for.
Caligula is due out for PS Vita on June 23 in Japan.
View the screenshots at the gallery.