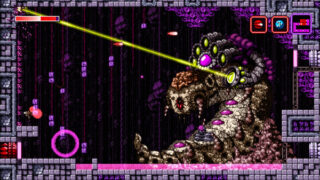 Axiom Verge is coming to Xbox One and Wii U later this year, developer Tom Happ announced.
Previously released for PlayStation 4 and PC (and currently in the "home stretch" for PS Vita), the game 16-bit retro-style action-platform-exploration game is influenced by titles like Metroid, Contra, and Blaster Master, and gives players power over glitches like those found in classic games, enabling enemy scrambling, environment corruption, and entering hidden areas.
Read more about the game via its Steam page.