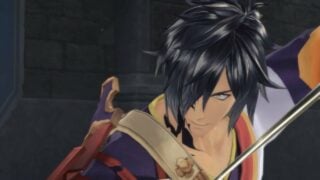 The latest issue of Weekly Jump reveals two new characters joining the cast of Tales of Berseria.
Get the new details below.
■ Characters

Rokurou (voiced by Daisuke Kishio)

A freewheeling young swordsman. He is a Daemon who managed to keep his sense of reason. He tags along with Velvet in some sort of debt to her.

Eleanor (voiced by Ami Koshimizu)

A "Seiryou" that belongs to the Taimashi group. She is friendly with everyone, but is callous towards those who snare at the Seiryou.

■ System

Artes Link

You can freely divide your artes among the Circle, Square, Triangle, and X buttons.

Soul Gauge

The amount of times you can link artes is determined by the count of Souls in your possession. You'll start each battle with three Souls and can increase your Souls by defeating enemies.
Tales of Berseria is due out for PlayStation 4 and PlayStation 3 in Japan in 2016. A western release is planned for PlayStation 4 and PC.
Thanks, @kazu4281 and Hachima Kikou.