Summon Night 6 PS4 English version coming to Asia in May [Update: no English version]
Media Vision-developed tactical RPG coming in English.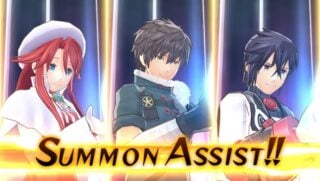 Update 02/24/16 at 10:35 p.m.: Summon Night 6: Lost Borders will not release with English subtitles in Asia, but rather with Chinese and Japanese language options. Play-Asia, who originally published the announcement, has apologized for the spread of misinformation.
Original Story 02/24/16 at 3:50 a.m.: Bandai Namco will release the PlayStation 4 version of Summon Night 6: Lost Borders in English in Asia in May, the company announced.
A Japanese release is due out for PlayStation 4 and PS Vita on March 10.
Here's a brief overview, via Play-Asia:
Besides more platform options, this time, players will also experience tons of new features like advanced tailored gameplay system, enhanced graphics, well-designed playable characters and new battle strategies!

Follow either male protagonist (cheerful adventurer Raj) or female protagonist (serious sniper Am) to protect their hometown "Cocoon World" of Fillujah by defeating all the summoned evil intruding creatures from an unknown place called Lyndbaum and unfold the hiding truth along the way. With the two protagonists setting, player will be able to choose one main character to play with and the other one to have night conversations with. As well, plenty of well-designed sub events are available for players to discover and experience.

For Summon Night series fans, main characters from previous entries will also show up in this title! Confirmed returning characters include Touya Fukazaki from Summon Night, Melgitos from Summon Night 2, Ray, Lisher and Lyurm from Summon Night 4, as well as Folth, Pariet, Torque from Summon Night 5!
Find all of our previews via our Summon Night 6: Lost Borders tag page.