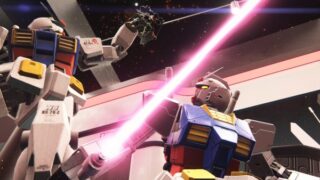 Update 02/26/16 at 3:10 a.m.: Bandai Namco has since confirmed an April 28 release date.
Original 02/24/16 at 1:55 a.m.: Bandai Namco will release Gundam Breaker 3 for PlayStation 4 and PS Vita in English in Asia this June, the publisher announced.
A Japanese release is due out on March 3. It was recently scored a 34 out of 40 in Weekly Famitsu magazine.
Here's a quick overview of the game, via Play-Asia:
For those new to this specific spin-off, the core mechanics revolve around the creative choice of building your own Gundam based on the many real life parts featured in the game; the previous title, Gundam Breaker 2, included over 100 Gunpla kits to choose form, which massively increased the number of options and customizations available to a total of over 10,000,000,000 different options!

Customization is a big part of the Gundam Breaker series and the upcoming release will channel that mindset by allowing players more to choose from when it comes to Gunpla colors, as well as the plating coating and dirtiness, and the expression of damage. In addition to missile pods, rail cannons, beam launchers, and other weapons, there is expansion equipment with various abilities that can be equipped. This will allow players to create a Full Armor Mobile Suit of their own!

The SD (Super Deformed) series of Gundam will now also be available in support roles, who will take instructions from the player during battles. SD Gundams can only be set to "Module," the effects of which will extend to the full team.

A new "Bounty Hunter Mode" has been added to the series. In this mode players will be able to battle against Gunpla that have been uploaded by other players, and the victor will walk away with in-game currency.
Find all of our previews via our Gundam Breaker 3 tag page.