FuRyu announces Caligula for PS Vita
Written by Persona 1 and 2's Tadashi Satomi.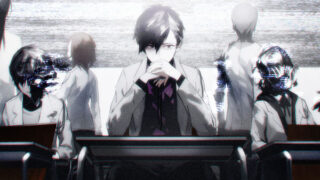 Update 2/24/16 at 10:16 a.m.: Watch the teaser trailer here.
Original Story 2/23/16 at 7:43 a.m.: FuRyu has announced Caligula, a new RPG for PS Vita developed by Aquria, directed by Takuya Yamanaka, and written by Persona and Persona 2 scenario writer Tadashi Satomi. It features character design by Oguchi and music by Tsukasa Mako.
Caligula will launch for PS Vita on June 23 in Japan for 6,980 yen. Pre-orders include a swimsuit costume product code, visual booklet, Caligula full album CD, and a special event participation ticket.
Set in the virtual reality world of Mobius, the story of Caligula follows nine men and women that aim to return to the real world. It is a "next generation juvenile RPG" that focuses on modern pathology and trauma. Its title, "Caligula," refers to wanting to see things we're not allowed to see, or doing things we're not allowed to do.
The protagonists are locked up in Mobius, a virtual reality world in which all human beings become an ideal high school student and spend their days repeating high school life. Everyone within Mobius has forgotten the real world. For different reasons, each of the protagonists realize that Mobius is not the real world and form a "Going Home Club" with the desire to return home, and start looking for a way back. However, there are some members who suffered in reality and sought salvation in Mobius, and carry a darkness that can not be shared with the others.
Mobius is an ideal world created by the vocal software "μ." People escape the despair of reality in Mobius, and those saved by her song are granted their every dream. In Mobius, there are men and women regardless of age that become high school students and live out a three-year student life on a loop.
Here are some of the characters:
μ (voiced by Reina Ueda) – Vocal software created by man. The originator that created Mobius in order to save the protagonists from harsh reality. As the creator of Mobius, μ is practically its God.
Hero (voiced by Chiharu Sawashiro) – President of the Going Home club that aims to escape Mobius.
Kotono Kashiwaba (voiced by Rie Murakawa)
Shogo Satake (voiced by Shunsuke Takeuchi)
Mihue Shinohara (voiced by Rie Takahashi)
Kotaro Tomoe (voiced by Yoshimasa Hosoya)
Suzuna Kagura (voiced by Minami Tanaka)
Izuru Minesawa (voiced by Yuichiro Umehara)
Naruko Morita (voiced by Ari Ozawa)
Kensuke Hibiki (voiced by Shouta Aoi)
Battles in Caligula occur when you encounter an enemy while exploring a dungeon. Battles are a seamless transition and use an orthodox system at its base, while also introducing a combo-connect system. When you select your command, the protagonists' fantasy is visualized, and the predicted actions of friends or foes is reproduced. In addition to experience points, enemies will also drop skills, and there are a variety to obtain and customize.
The protagonists oppose the "Ostinato Musicians," composers that provide music to μ and who plan to destroy the Going Home Club that are disrupting the order of Mobius as traitors. Famous sound composers of Vocaloid and such are working on the game.
The following musicians offer music to μ:
Kagi-P (40mP) (voiced by Shouta Aoi)
Sweet-P (Oster Project) (voiced by Emi Nitta)
Shounen Doll (PolyphonicBranch) (voiced by Yumiri Hanamori)
Mirei (Chouchou-P) (voiced by Eriko Nakamura)
Ike-P (Asa) (voiced by Soma Saito)
Shadow Knife (164) (voiced by Yuma Uchida)
??? (YM) (voiced by ???)
Throrn ([email protected]) (voiced by Yuka Otsubo)
??? (Mitoki-P) (voiced by ???)
The theme song is sung by a special unit consisting of Eriko Nakamura, Emi Nitta, and Yuka Otsubo.
Here are some other details, via an interview in the magazine:
The word "Caligula" won't necessarily appear in the game. It embodies the experience of playing the game.
The characters that appear in the game have violated a variety of taboos.
There was a certain taboo that the developers decided, "it would be best to avoid," but Satomi instead created a character that maximized the taboo. That character is still going strong.
The music sung for μ is by composers that are active on video upload websites and such.
At first glance, combat is flashy like an action game, but since the actions are command-based, you can enjoy the game while carefully selecting your commands.
Development on Caligula is currently 50 percent complete.
Visit the teaser website here.
Thanks, Famitsu and Hachima Kikou (2).