ClaDun Sengoku details, teaser trailer, screenshots
The latest entry in Nippon Ichi's pixelated RPG series.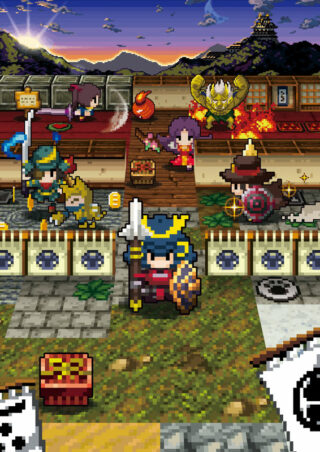 Nippon Ichi Software has released first details, a teaser trailer, and screenshots for its newly announced ClaDun Sengoku, due out for PS Vita in Japan on May 26.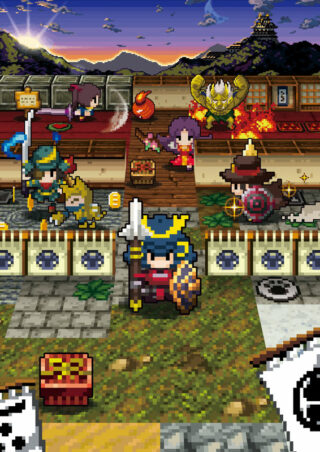 Get the information below.
■ Story

The Sengoku era.

A time where many thoughts crossed, and where the era of rivalry between local warlords came to an end.

The setting of the story is "Arcanus Cella."

An after-death world in which the souls of those who left behind regrets arrive. Here there is no exit, and there is only one way to return again to the cycle of life and death.

Fulfill your regrets.

The person whose dreams come true and the person whose dreams are destroyed—the curtain to this story is raised as those two reflect on their lives.

■ Overview

ClaDun Sengoku is a a Sengoku, Japanese-style action RPG set in the after-death world of "Arcanus Cella," in which the souls of those who left behind regrets arrive. To fulfill the "regrets" of the Sengoku military commanders wandering about Arcanus Cella, players will challenge dungeons hiding clues of the regret.

■ Arcanus Cella

Arcanus Cella is the setting of the story, as well as the player's base. Here, you'll find facilities such as the "General Merchant" and "Castle" that will let you purchase equipment and prepare to challenge the dungeons. Additionally, by using these facilities, you can also create an entirely new playable character.

■ Dungeons

In dungeons, the goal is to get to the exit in the depths of the dungeon using the character you control. Combat is real-time. Make use of various actions to proceed through the dungeon!

Freely make use of various "Magic" and "Techniques," including attack, recovery, and status up abilities.

Powerful bosses await in the depths of the dungeons.

It's important to be careful for floor traps in the dungeon. You might step somewhere and an arrow flies out.

You can get various items from treasure boxes.

■ Weapons

Characters can use a total of eight weapon types: "Sword," "Blunt Weapon," "Staff," "Spear," "Bow and Arrow," "Short Sword," "Shuriken," and "Sickle and Chain." Each has its own advantages and disadvantages, as well as attack range and actions. Change up your weapons based on the dungeon you challenge, your character's job class, and your play style.

The "Blunt Weapon" has a slow attack motion, but lets out a fierce blow. You can also use it to destroy specific walls. The "Bow and Arrow" can be used to attack enemies safely from a distance. The "Spear" is good to attack from mid-range and maintain a reasonable distance from the enemy.

■ Job Classes

The "Job" you choose when making your character greatly changes the skills you acquire, your status, and how your character will develop. This report will introduce the seven classes you can choose between at the start of your adventure.

Warrior

A job average in both attack and defense. It has no specialties in status, so it is the recommended job for beginners.

Job Skill: Super Slide – The distance you can slide is longer than normal.

Great Swordsman

A job that can move quickly even when walking in difficult terrain. It is best suited to dungeon exploration.

Job Skill: Grass, Fire, Sticky Walk – Move about smoothly even in grassy, fiery, and sticky terrains.

Necromancer

A magic skills specialist. It has low HP, but can fire a variety of magic attacks from a distance.

Job Skill: SP Debt Recovery – In the event that you don't have enough SP and need to use a skill that uses SP, the rate of SP recovery speeds up.

Aristocrat

A job that can learn recovery magic. It is useful when taking on longer dungeons.

Job Skill: Immortal Finisher – Can kill undead monsters that normal attacks can't.

Merchant

A job that specializes in earning Gane, the currency used in Arcanus Cella. It can learn skills related to Gane and has a lot of tricky things to it.

Job Skill: Death Gane Preserve – Only lose a little Gane when you've fallen in the dungeon.

Sorcerer

A job that specializes in human bullets and magic attacks. It has low defense and can fight from distances both far and near.

Job Skill: Magic and Techniques Chant Reduce – Shortens "Magic" and "Technique" chants, allowing you to use them more quickly.

Sinful Priest

A job that specializes in support magic and recovery magic, and pushing back the enemy's defense. Because it can learn the "Magic Circle" to arrange "Vassals" in great numbers, it has high HP.

Job Skill: Shield-Front Bonus – When you guard with the shield, your frontward resistance increases.

■ Magic Circle

A Unique System to Protect the Player Character

The "Magic Circle" is a system where you can organize your battle formation and power up your "General" (player character) with the support of "Vassals" (allies). When the General is fighting in the dungeon, the Vassals become a shield to protect the General and take the damage the General would otherwise receive.

Train and Strengthen

There are more than 200 Magic Circles, each possessing a different shape. Not only can you arrange Vassals, but you can also arrange special items that can boost statues and have a big influence on character strengthening. Since these arrangements are key to challenging dungeons, be sure to make use of it when developing your character.

■ Character Edit

As you progress, you will be able to create a new character in Arcanus Cella. You can select your own name, job class, and appearance. By choosing "Oekai Mode," you can create your hero's face on your own through pixel-dot drawing. You can freely customize the face as seen from the four directions, the regular facial expression, the down facial expression, and even the walking animation. Additionally, the character's Oekai data can be saved as an image to the PlayStation Vita photo folder and shared with other users.

■ Ad-Hoc Multiplayer

Through ad-hoc communication, you can play cooperatively and competitively with other players. There will also be a dungeon clear time Internet ranking. More details will be shared in a later update.

■ Pre-Order Bonus

Pre-orders include the "ClaDun Sengoku Soundtrack Selection Real & Retro CD," which includes 21 songs (over 60 minutes) of music from the game, including the short version of the opening theme song "Ouka Senarashi" by Kaoru Hayano.

■ Opening and Ending Theme Songs

The opening theme song is "Ouka Senarashi" by Kaoru Hayano and the ending theme song is "Break Your Heart" by Rezz.
Watch the trailer below. View the screenshots at the gallery.