ANONYMOUS;CODE second teaser trailer
Introducing the 2036 Problem.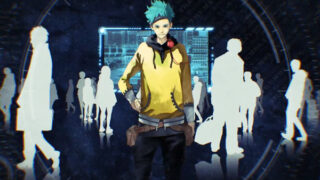 5pb. has released the second teaser trailer for ANONYMOUS;CODE, its new science visual novel game from Chiyomaru Shikura, introducing the game's characters.
First announced in March 2015, ANONYMOUS;CODE is set in 2037 and revolves around an "Earth Simulator" created by the supercomputer "Gaia." After humanity successfully recreates humanity on "another Earth" generated within the computer, the computer-made humanity soon created its own Earth Simulator, leading humanity to question its own existence.
Here's the official story description, via the newly launched teaser website:
6:28:15, February 6, 2036.

At that time, the 4,294,967,295 seconds limit of the digital standard clock engraved inside every computer in the world from the year 1900 overflowed, and led to a disastrous situation where every defense and attack system malfunctioned.

Like God's hammer, the roar of the military satellites that rained down to the earth annihilated major cities around the world in the blink of an eye.

New York, London, Shanghai, Moscow, and then Shinjuku. The dawn after such a large-scale disaster was called the "Sad Morning."

Is this really humanity's judgment? If that's the case, who is this person to judge?

Or is this no more than just a prelude to further disaster?

During this indication of unrest, the curtain is raised on the story of ANONYMOUS;CODE. The setting is Nakano, Tokyo, the year 2037.

"—Hack God."
Platforms and a release date for ANONYMOUS;CODE have not been announced.
Watch the teaser trailer below. (Alternatives: Vid.me, MP4 File Download.)