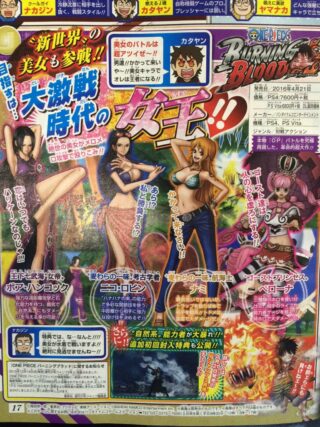 The latest issue of Weekly Jump confirms Nami, Nico Robin, Boa Hancock, and Perona as playable characters in One Pice: Burning Blood.
Nami battles laying out traps for the opponent and inflicting heavy damage with her lightning finishing attack. Robin uses various locking techniques through the power of the Hana-Hana Fruit, as well as mid-range throwing techniques. Hancock not only has powerful long-range attacks and petrify abilities, but can also deal damage in the Logia system using Haki. And Perona can not only deplete her opponents' life and capabilities gauge with her Hollow, but can deal heavy damage using her special Hollow.
One Piece: Burning Blood is due out for PlayStation 4 and PS Vita in Japan on April 21, and for PlayStation 4, Xbox One, PC, and PS Vita in North America and Europe in June 2016.
Thanks, @kazu4281 (via Games Talk).