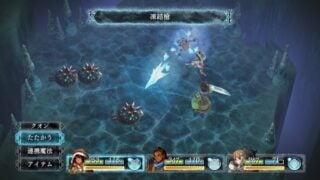 New details on Square Enix's Ikenie to Yuki no Setsuna have come out, detailing the game's Materia-esque Gem system.
Get the information below.
Gems

In addition to weapons and armor, there are also items known as "Gems" that you can equip to learn new command techniques or obtain additional effects.

There are a variety of Gems, which can be attached or detached at any time. The number of Gems you can equip at the same time increases each time you level up.

Gems can be acquired through the shop. You can bring the various materials you get as battle spoils to the shop, and if you have the required amount of materials, you can exchange it for a Gem. The materials required for each Gem varies.

Types of Gems

Wall – A Gem that teaches you magic that reduces damage received from the enemy. Through the "Setsuna System," which depends on timed button reactions, its effect extends to the entire party.
Provoke – Provokes the enemy so that you take their attacks. Through the Setsuna System, it has also reduces received damage.
Firebit – The fire attribute attack power of the equipped character is increased.
Stonebit – Petrifies the enemy at the time of an attack.
Caloric – Widens the range of various attacks, and unleashes single attacks as multiple attacks.
Harvest – Recovers some HP when an enemy is defeated.
Avenger – Reflects a small amount of received damage.

Scythe Man

Also revealed is a new character known as the "Scythe Man." He lacks human emotion and comes off as a reaper. He'll stand before the protagonist and friends a number of times in order to kill Setsuna.
Ikenie to Yuki no Setsuna is due out for PlayStation 4 and PS Vita in Japan on February 18 in Japan.
Thanks, Games Talk.