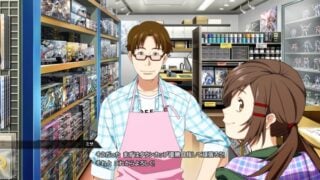 Bandai Namco has released new Gundam Breaker 3 information and screenshots, providing an overview of the game's story and the characters that surround it, as well a look at the latest confirmed playable Gunpla.
Get the details below.
■ Story Overview

Gundam Breaker 3 follows a story about youth who throw themselves into fictional Gunpla battles in efforts to revive a declining shopping district. You'll help Misa, the daughter of a Gunpla shop owner, as your Gunpla team competes in district tournaments, national tournaments, and battles against a variety of formidable opponents.

■ Characters

Misa (voiced by Yuka Iguchi)

In an attempt to save the Ayato shopping district where she grew up from decline, Misa creates a Gunpla team crowing the name of the shopping district. She figured if the team could make waves, it could act as propaganda for the district, but with their lack of funds and runaway teammates, things haven't been going smoothly.

Kadomatsu (voiced by Tomokazu Sugita)

A computer science expert who works as a researcher for robot production company Heim Robotics. He enjoys playing on the computer, and works as the Gunpla battle team's suport engineer as a hobby. He also created a Knight Gundam support robo.

Robo-Ta (voiced by Yasunori Matsumoto)

The toy bot created by Kadomatsu. He'll participtae in Gunpla battles alongside the protagonist and Misa. Misa named him "Robo-Ta."

Haru (voiced by Rina Sato)

The MC of Gunpla battles.

Kamase (voiced by Kengo Takanashi)

He was once a teammate of Misa's, but abandoned her and moved to a different team.

Uruchi (voiced by Ami Koshimizu)

Sanari Mechanics' untalkative, ace fighter.

Mochizuki (voiced by Kana Asumi)

A Sanari Mechanics engineer.

Will (voiced by Tatsuhisa Suzuki)

The young proprietor of a foreign company called "Times Universe."

Dorothy (voiced by Rie Suegara)

A maid hired to work at Will's house.

Mitsuki (voiced by Kaito Ishikawa)

A student at the Okinawa Astronaut Training School.

Misora (voiced by Saoir Onishi)

Mitsuki's childhood friend.

Rokuto (voiced by Tarusuke Shingaki)

An active-duty astronaut attached to the "Kajima Rocket" rocket production company.

■ Latest Gunpla

Gyan

Zudah

Rick-Dias

Doven Wolf

Palace Athene

■ First-Print Bonus

First-print copies of Gundam Breaker 3 include a product code to download HG Gundam Barbatos (4th Form):
Gundam Breaker 3 is due out for PlayStation 4 and PS Vita on March 3 in Japan.
View the screenshots at the gallery.