Dragon Quest Monsters: Joker 3 details Monster Synthesis
Combine monsters to make even stronger monsters.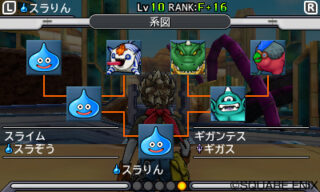 Square Enix has released a new set of details and screenshots for Dragon Quest Monsters: Joker 3 introducing the game's "Monster Fusion" system.
Get the information below.
Monster Synthesis

In Dragon Quest Monsters: Joker 3, in addition to leveling up monsters and attaching accessories, there is another way to strengthen your creatures. It's called, "Monster Fusion."

By joining together two 'parent' monsters, you can produce a more powerful 'child' monster. By joining together monsters born out of fusion, they can reborn as even stronger monsters.

In other words, by repeatedly fusing monsters, you can continue to increase the power of your monsters.

To perform a Monster Synthesis, choose two monsters as the 'parents' of the synthesis. Monsters are gender-less, so you can choose your favorite monsters.

For example, by combining Nasubinara…

…and Smile Lizard…

…you'll get the completely new monster Fondue.

Choose from Up to Five Monsters

You can freely choose which monster is born out of synthesis from five possible children. There will be monsters with types that are the same as the parents, as well as monsters with types different from the parents.

Monsters born out of synthesis will level up and exceed the abilities of their parents. There are a number of potential monster combinations, as well as some special monsters that can only be born through specific combinations.

Skills

Monsters born out of synthesis can also inherit skills from their parents. This is in addition to the skills it is born with. From a single skill, it can learn various special techniques and magic.
Dragon Quest Monsters: Joker 3 is due out for 3DS in Japan on March 24.
View the screenshots at the gallery.