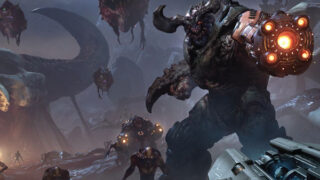 DOOM is Game Informer's February 2016 cover story, the publication announced.
The February issue features a 12-page preview on the upcoming shooter. Game Informer spent "considerable hands-on time" with the single-player campaign, multiplayer, and SnapMap user-generated content system.
In addition to DOOM, the February issue also features the magazine's Top 50 games of 2015.
New DOOM content will be added to Game Informer's online hub throughout the month. The next update is scheduled for tomorrow, January 7.