Bravely Second: End Layer story trailer
Darkness has risen again.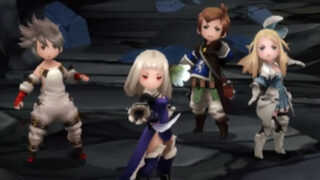 Nintendo of Europe has released a story trailer for Bravely Second: End Layer.
Here's an outline of the story, via its European website:
When the evil Kaiser Oblivion abducts Agnès Oblige, the heroine of Bravely Default, and her bodyguard Yew Geneolgia pledges to rescue her from the kaiser's Skyhold, an impregnable fortress floating high over Eternia. Along the way, Yew will need to team up with Magnolia Arch and other new faces, plus a few returning heroes like Edea Lee and Tiz Arrior, to survive foreboding dungeons and conquer fearsome enemies.
Bravely Second: End Layer will launch for 3DS in Europe on February 26 and North America on April 15. A demo will reach Europe on February 11 and North America prior to the game's launch.
Watch the trailer below.