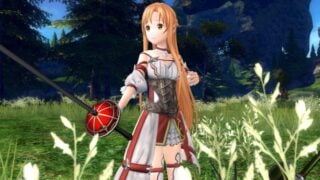 Bandai Namco has confirmed Sword Art Online: Hollow Realization will come to PlayStation 4 and PS Vita in the Americas and Europe in 2016.
(Editor's Note: The European press release says "fall 2016," but the U.S. press release simply says "2016," as does the trailers. We've contacted Bandai Namco for clarification and are awaiting response.)
The game will feature Japanese voice-overs with English, French, German, Italian, and Spanish text.
Here's the rundown, via Bandai Namco:
Overview

Sword Art Online: Hollow Realization takes place in one of the stages set within the original Sword Art Online and will give fans the chance to experience the "Sword Art Online" world from the very beginning. Taking on the role of Kirito, players enter a new VRMMORPG world called "Sword Art Origin", which was created on the game's original sever, giving players flashbacks of memories from past events. Players will enter the early period within the "Sword Art Origin" world and must find a way to win the game one more time.

Sword Art Online: Hollow Realization features a plethora of beloved characters from the Sword Art Online anime series including Kirito, Leafa, and Asuna. Sword Art Online: Hollow Realization will also feature the debut of an exclusive new virtual character only to be found in the game; joining players on this new VRMMORPG adventure. Along the amazing storyline and unique characters, players will enjoy high quality graphics fully utilizing the PlayStation 4 power.

Features

Back to its origins – A brand new story created under the watchful eye of the original author of the Sword Art Online novels, Reiki Kawahara.
A Sword Art Online world to immerse yourself in – Dense, highly-detailed, and dynamic environment will welcome you into a rich adventure. The setting, and your journey through this world, will continue to evolve as you explore this new virtual universe.
Intense and strategic gameplay – Comprehensive RPG gameplay perfectly matched with strong action elements. Approach monsters and characters head on as you charge through this new adventure and compelling story. Experience the intense battles of Sword Art Online with explosive, rewarding attacks.
Watch the debut trailer and eight minutes of new gameplay below. View a new set of screenshots at the gallery.
Trailer
Gameplay
Update 11:30 a.m.: Here's more footage, via IGN: