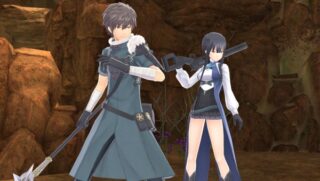 Summon Night 6: Lost Borders will launch for PlayStation 4 and PS Vita in Japan on March 10, the latest issue of V-Jump reveals. It will cost 7,776 yen on PlayStation 4 and 7,344 yen on PS Vita.
The PS Vita version will have a 10,584 yen limited edition including a premium art book, soundtrack CD, series sound edition, and PS Vita theme download code.
First-print copies will include a code to download the "Oyakata" summon.
The theme song for Summon Night 6 is confirmed as "To Be Alive" by Amu voice actress Yui Ogura.
V Jump also reveals a new character named Isuto (voiced by Toshiki Masuda), as well as several returning series characters, including:
Touya Fukazaki (voiced by Nobuyuki Hiyama) from Summon Night
Luchell (voiced by Mai Nakahara) from Summon Night Ex-These: Yoake no Tsubasa
Keel (voiced by Yusuke Shirai) from Summon Night
Melgitos (voiced by Nobutoshi Canna) fom Summon Night 2
Ray (voiced by Yuki Tai) from Summon Night 4
Lisher (voiced by Yuki Matsuoka) from Summon Night 4
Lyurm (voiced by Yukari Tamura) from Summon Night 4
Folth (voiced by Hiroshi Kamiya) from Summon Night 5
Pariet (voiced by Mariko Honda) from Summon Night 5
Torque (voiced by Asami Sanada) from Summon Night 5
Thanks, Re: Zaregoto.