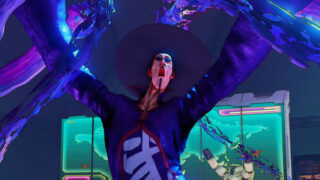 The final character to join the launch roster of Street Fighter V is a new fighter named F.A.N.G., Capcom announced during the PlayStation Experience 2015 opening keynote.
"As a member of the evil Shadow Organization, F.A.N.G. utilizes a tricky and deceptive fighting style to put an end to his opponents," producer Yoshinori Ono said during they keynote.
Here's F.A.N.G.'s official rundown:
Becoming the 16th challenger, F.A.N.G emerges from the shadows to take his self-proclaimed spot as the second in command of Shadaloo! When he's not busy overseeing Shadaloo's operations, he shows his passion through conducting evil experiments within Shadaloo's research facility. His sinister long range attacks and slippery movements, paired with his ability to poison his opponents, is enough to leave his opponents feeling ill.
Capcom also announced the six post-launch characters coming to Street Fighter V during its first year of launch. They are Alex, Guile, Balrog, Ibuki, Juri, and Urien.
Finally, Capcom announced the Street Fighter V Season Pass. The Pass will be available to purchase for USD $29.99 / EUR 29.99 / GBP 24.99 and will give players instant access to all six additional characters when they are released, as well as a premium costume for each and an exclusive PlayStation 4 theme. The Season Pass is available to pre-order now in North America.
For European consumers, there is also a Street Fighter V Deluxe Edition available to pre-order on the PlayStation Store now. The Deluxe Edition contains the full game and the 2016 Season Pass. Until launch, it's available to pre-order at a 10 percent discounted rate of GBP 71.99 / EUR 89.99. After that time, it will increase to GBP 79.99 / EUR 99.99.
There are two ways to receive bonus content in Street Fighter V – through Fight Money (obtained for free by completing various in-game challenges) and Zenny (purchased using real money and used to receive the content immediately). Zenny will be available to purchase in various options:
100 Zenny = Purchase for USD $0.99 / EUR 0.99 / GBP 0.79
550 Zenny = Purchase for USD $4.99/EUR 4.99/GBP 3.99 (receive a 50 Zenny bonus)
1200 Zenny = Purchase for USD $9.99/EUR 9.99/GBP 7.99 (receive a 200 Zenny bonus)
4000 Zenny = Purchase for USD $29.99/ EUR 29.99/GBP 24.99 (receive a 1000 Zenny bonus)
Street Fighter V is due out for PlayStation 4 and PC on February 16.
Watch the F.A.N.G. trailer below. View some screenshots at the gallery.