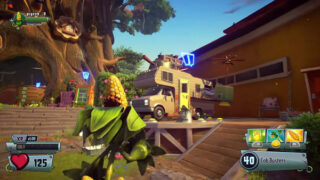 Electronic Arts and PopCap Games released a new Plants vs. Zombies 2: Garden Warfare gameplay trailer today introducing the game's new solo-play features, including the "Solo Ops" game mode, swapping between characters on the fly, and the new customization options in "Crazy Settings."
Here's the rundown, via EA:
Experience the game on your own terms in Solo Ops with the ability to select a full squad of four characters and swap between them at any point during a match. Use their individual abilities and unique strengths designed to conquer an objective, deal extra damage, or support the team to win the battle! As an added bonus, players can earn experience for each individual character for as long as they control them.

Crazy Settings lets players turn their game into a richer and crazier experience in either Solo Play, or private and local matches with the power to modify the game with fun, over-the-top options including:

Infini-Ammo – Characters have infinite ammo without overheat.
Speed Boost Craziness – Characters move crazy fast.
Low Gravity – It isn't just for the moon. The entire match will be played in low gravity.
Simply Explode Mode – Characters explode when vanquished "simply."
Ridiculously Low Health – All characters have a max of one health – instant vanquishes.
Super Crazy Knock-back Mode – Damaged characters get knocked back…really far.
Plants vs. Zombies: Garden Warfare 2 will launch for PlayStation 4, Xbox One, and PC on February 23 in North America and February 25 in Europe
Watch the trailer below.