Nights of Azure details weapons, supporting characters
Plus, a look at the western logo and final box art.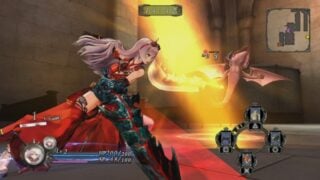 Koei Tecmo has shared new screenshots and information on the weapons and supporting cast of Nights of Azure, its upcoming action RPG from Atelier series developer Gust. The publisher also shared the game's western logo and box art.
Get the information below.
Arnice's Weapons

In Nights of Azure, the player controls Arnice, a member of a knightly order called 'Curia' tasked with protecting humanity from the azure-blooded demons that surface during the night. Unlike previous Gust titles, the protagonist has a very active role in the game's real-time battle system. Arnice takes on her enemies armed with a variety of impressive weapons ranging from a simple sword to a long-range gun with special healing abilities. She gradually becomes proficient with five types of weapons, including a battle hammer that deals area-of-effect damage, a dagger that causes a bleeding effect, and a longsword that drains her enemies' blood to increase attack bonuses.

Supporting Characters

Additionally, a cast of colorful characters surround Arnice while she strives to complete her quest! Three of the key human non-playable characters frequent the hotel that Arnice uses as a base:

Simon – The hotel manager who has a strange connection to the Curia.
Professor Alucard – A shady doctor who always tries to provoke Arnice.
Lloyd – A scavenger and merchant who trades at the hotel cafe.
Corinne – Arnice regularly visits the art museum to see Corinne, an elder knight of the Curia who often offers Arnice valuable advice.

However, the kingdom of Ruswal is also home to curious beings such as:

Christophorus – A pure-blooded, mask-wearing demon who lives at the Opera House and shows up to give our protagonist advice at seemingly random moments.
Mistral – Another pure-blooded demon who poses no threat to humans. Fashionable and fascinating, she lives at the Palace and seems to have given up her quest of finding the soul of Nightlord, the demon overlord.

Strange and intriguing, this unlikely band of comrades will all play their part in sealing Arnice's fate as she untwines the threads of her dark destiny.
Nights of Azure will launch for PlayStation 4 in North America on March 29 and in Europe on April 1.
View the new set of screenshots, logo, and box art at the gallery.